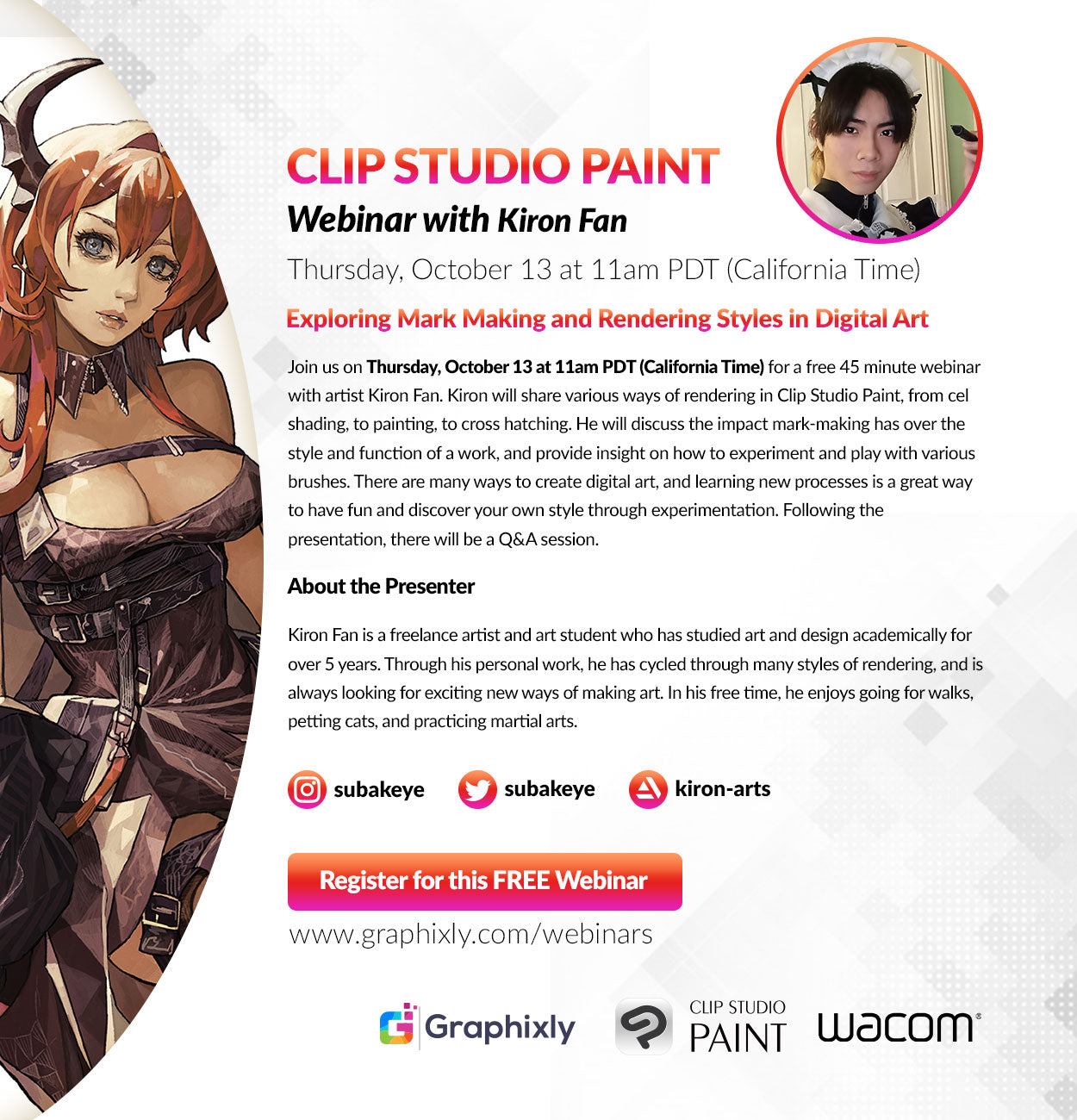 Webinar – Exploring Mark Making and Rendering Styles in Digital Art with Kiron Fan
Contact Graphixly @
WATCH THE WEBINAR RECORDING HERE
Please register for the Webinar – Exploring Mark Making and Rendering Styles in Digital Art with Kiron Fan:
Click here to register for this FREE Webinar
Description
Join us on Thursday, October 13 at 11am PDT (California Time) for a free 45 minute webinar with artist Kiron Fan. Kiron will share various ways of rendering in Clip Studio Paint, from cel shading, to painting, to cross hatching. He will discuss the impact mark-making has over the style and function of a work, and provide insight on how to experiment and play with various brushes. There are many ways to create digital art, and learning new processes is a great way to have fun and discover your own style through experimentation. Following the presentation, there will be a Q&A session.
Click here to register for this FREE Webinar
About the presenter
Kiron Fan is a freelance artist and art student who has studied art and design academically for over 5 years. Through his personal work, he has cycled through many styles of rendering, and is always looking for exciting new ways of making art. In his free time, he enjoys going for walks, petting cats, and practicing martial arts.  
Instagram: @subakeye
Twitter: @subakeye
Artstation: kiron-arts
1 comments
I attended this and the webinar is great, talked a a lot about styles and brushes of CSP, and some inspirational stuff for artists right there. Though for attending, will I get a certificate of sort?
Ronyx @ 2022-10-14 12:40:54 -0700