volume license implementations benefits
For learning and working anywhere
・ Each user can use up to two devices, at work, at school or at home
・ Users are free to choose their favorite devices (Windows / macOS / iPad / iPhone / Galaxy / Android / Chromebook)
・ Always up-to-date with the latest features
・ Licenses are authenticated online (internet access required)
More licenses, bigger discount
・ Admins can purchase ten licenses at a time
・ The number of licenses can be changed upon contract renewal
・ Save money by signing up for a single contract instead of individual company location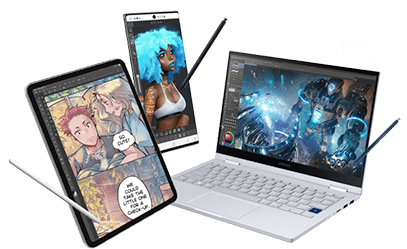 Easy license management
・ Centralized web portal for simple administration
・ Manage user invitations, activities and suspensions
・ Manage activities with up to five admins (Administrators need a Clip Studio Account at sign-up)
How do Volume Licenses work?
・ Users download Clip Studio Paint to their company, school or personal device
・ Administrators assign user accounts for Volume License access
・ Users login with their assigned accounts for full feature use
・ Available with the features of Clip Studio Paint EX or PRO
・ Compatible with Windows, macOS, iPad, iPhone, Galaxy, Android, and Chromebook devices
・ Internet access is required for sign-up and login
・ Users and administrators must log in with a free Clip Studio account
・ Options for devices that are restored to default after use are available
・ It is possible for multiple users to use a single device via individual account logins
・ Server based access to Clip Studio Paint (Windows or macOS) is not available
・ No disks or physical manuals are delivered
・ Download the latest version of Clip Studio Paint here
・ Find Clip Studio Paint operating specifications for each device-type here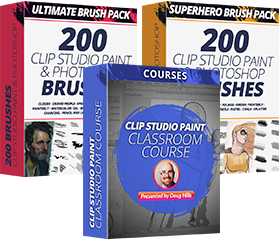 Special Offer for Educators
If you are using Clip Studio Paint Volume Licenses to teach digital art at your school, make use of Graphixly's highly rated courses and learn the ins and outs of the software! Start with the basics or discover advanced features that enhance the workflow in drawing, painting and animating.

Contact us to request a Volume License quote and check the availability of special offer with your purchase.
Request special offer
Do I need to log in with my Clip Studio account for volume licenses?
Yes, administrators and users need to log in with their Clip Studio account. Sign up for a new account here.
How many licenses can I purchase in a volume license?
Users can apply for 10 licenses at a time.
Are updates with additional features available?
The latest updates are available anytime during the subscription period, including Ver. 2.0 or later.
Are there any restrictions on the devices that can be used at home or at work?
No. You can use any combination of Windows, macOS, iPad, iPhone, Galaxy, Android, and Chromebook devices.
Can I change the number of licenses?
You can change the number of units according to the price list when the contract is renewed. For more than 100 licenses, you can add licenses in units of 10.
If I want to add a license before the next contract renewal, will it need a new contract? Or can I add it to an existing contract?
If you pay by bank transfer, you can add licenses to your existing contract. From the next renewal, the additional amount can be paid together with the amount for the original contract.
The additional charge will be calculated on a monthly basis until the next contract renewal.
If you pay by credit card, the additional amount will require a new contract, with each contract renewing separately. For more information, please contact us.

Do I need to apply for a volume license again after the one-year contract period has expired?
No, your subscription is renewed automatically. If you wish to terminate your contract, please contact us at least 30 days prior to its renewal date.
What do I receive with my volume licenses?
Nothing is sent to volume license customers. The software is available for download by each user. Administrative rights for the volume license are granted to the license administrator's Clip Studio account used for the purchase.
I would like a manual for Clip Studio Paint.
All reference materials can be downloaded as PDF files here. (Note: this page will not display on smartphones. Please use a computer or tablet to view it.) Search for "Instruction Manual"
Is it possible to use volume licenses on a single device that multiple people have access to?
Yes, it is. When making your initial inquiry, please check the box "I plan to use one device for multiple users".
Is there a guide on bulk managing licenses through the License Management Portal?
Yes, there is. You can download the PDF guide here.