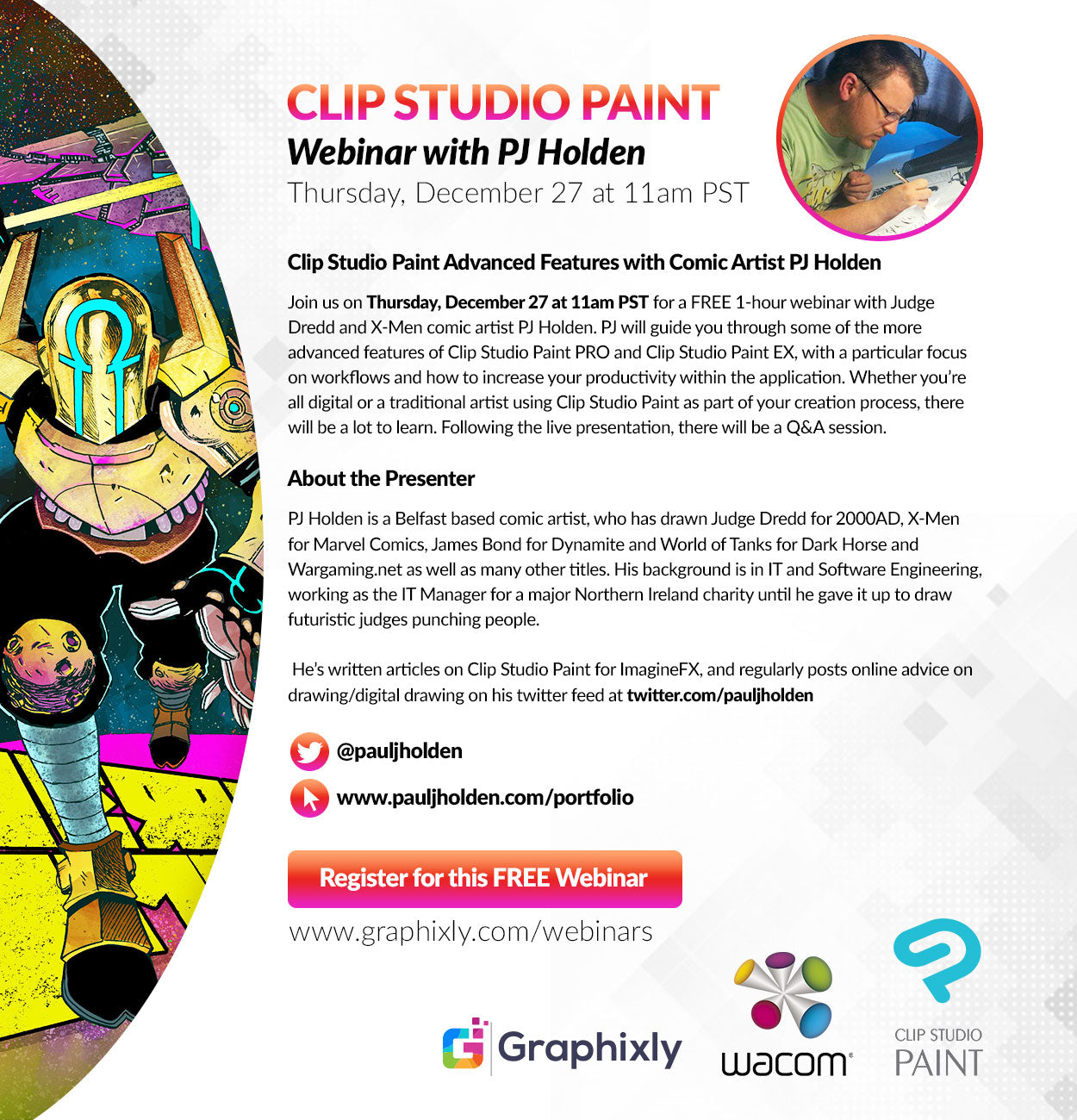 Webinar - Clip Studio Paint Advanced Features with Comic Artist PJ Holden
Fahim Niaz @
WATCH THE WEBINAR RECORDING HERE


Please register for Webinar - Clip Studio Paint Advanced Features with Comic Artist PJ Holden at: 

Click here to register for this FREE Webinar
Description
Join us on Thursday, December 27 at 11am PST for a FREE 1-hour webinar with Judge Dredd and X-Men comic artist PJ Holden. PJ will guide you through some of the more advanced features of Clip Studio Paint PRO and Clip Studio Paint EX, with a particular focus on workflows and how to increase your productivity within the application. Whether you're all digital or a traditional artist using Clip Studio Paint as part of your creation process, there will be a lot to learn. Following the live presentation, there will be a Q&A session.
Click here to register for this FREE Webinar
About the Presenter
PJ Holden is a Belfast based comic artist, who has drawn Judge Dredd for 2000AD, X-Men for Marvel Comics, James Bond for Dynamite and World of Tanks for Dark Horse and Wargaming.net as well as many other titles. His background is in IT and Software Engineering, working as the IT Manager for a major Northern Ireland charity until he gave it up to draw futuristic judges punching people.
He's written articles on Clip Studio Paint for ImagineFX, and regularly posts online advice on drawing/digital drawing on his twitter feed at twitter.com/pauljholden
Twitter: http://www.twitter.com/pauljholden
Portfolio: http://www.pauljholden.com/portfolio
0 comments