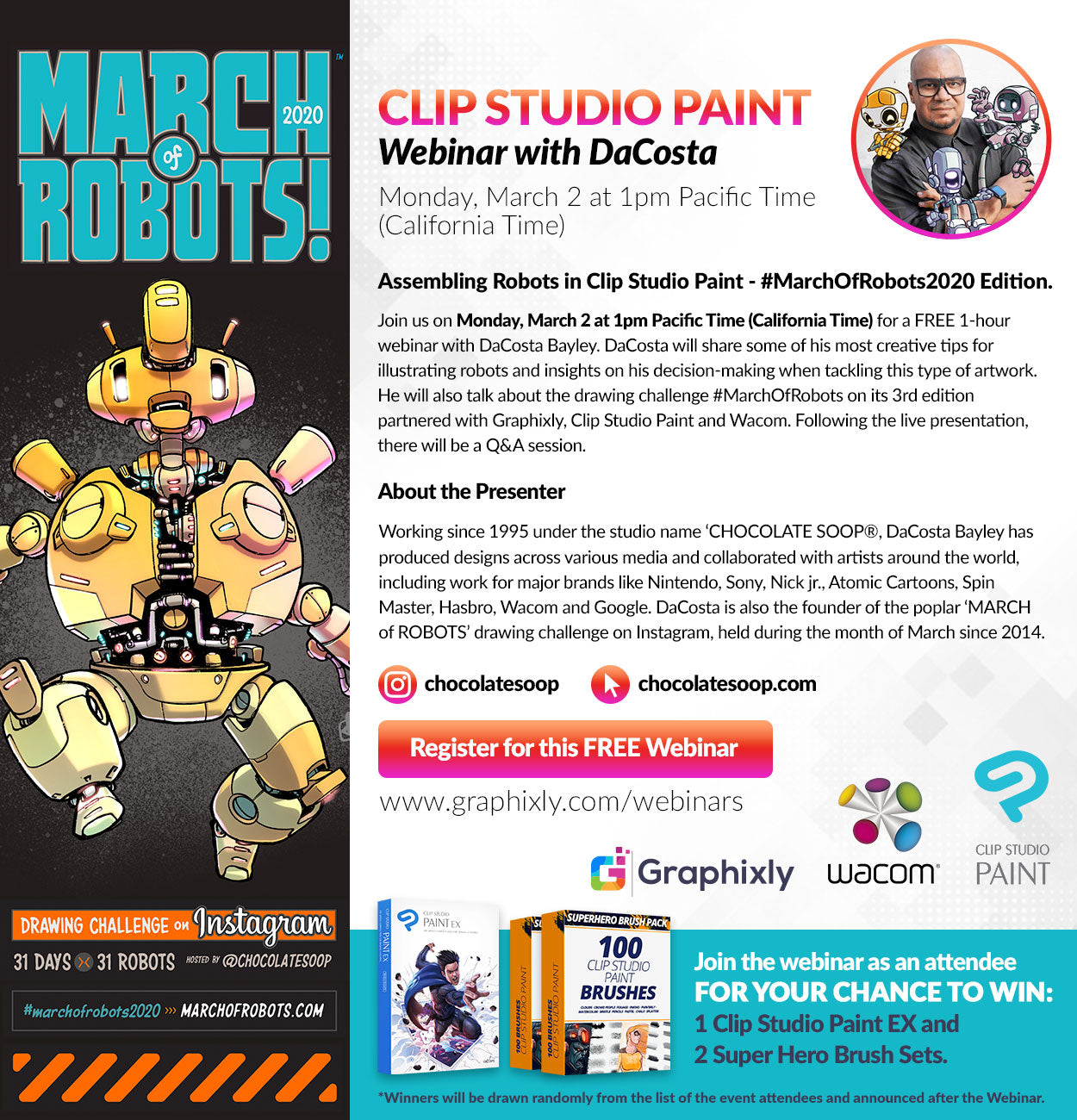 Webinar - Assembling Robots in Clip Studio Paint - #MarchOfRobots2020 Edition
Contact Graphixly @
WATCH WEBINAR RECORDING HERE


Please register for Webinar - Assembling Robots in Clip Studio Paint - #MarchOfRobots2020 Edition with DaCosta Bayley:
Click here to register for this FREE Webinar
Description
Join us on Monday, March 2 at 1pm Pacific Time (California Time) for a FREE 1-hour webinar with DaCosta Bayley. DaCosta will share some of his most creative tips for illustrating robots and insights on his decision-making when tackling this type of artwork. He will also talk about the drawing challenge #MarchOfRobots on its 3rd edition partnered with Graphixly, Clip Studio Paint and Wacom. Following the live presentation, there will be a Q&A session.
Join the webinar as an attendee for your chance to win one copy of Clip Studio Paint EX and 2 Super Hero Brush Sets.

*Winners will be drawn randomly from the list of webinar attendees and announced after the Webinar.
Click here to register for this FREE Webinar
About the Presenter
Working since 1995 under the studio name 'CHOCOLATE SOOP®, DaCosta Bayley has produced designs across various media and collaborated with artists around the world, including work for major brands like Nintendo, Sony, Nick jr., Atomic Cartoons, Spin Master, Hasbro, Wacom and Google. DaCosta is also the founder of the poplar 'MARCH of ROBOTS' drawing challenge on Instagram, held during the month of March since 2014.
IG: @Chocolatesoop
Web: http://chocolatesoop.com
0 comments