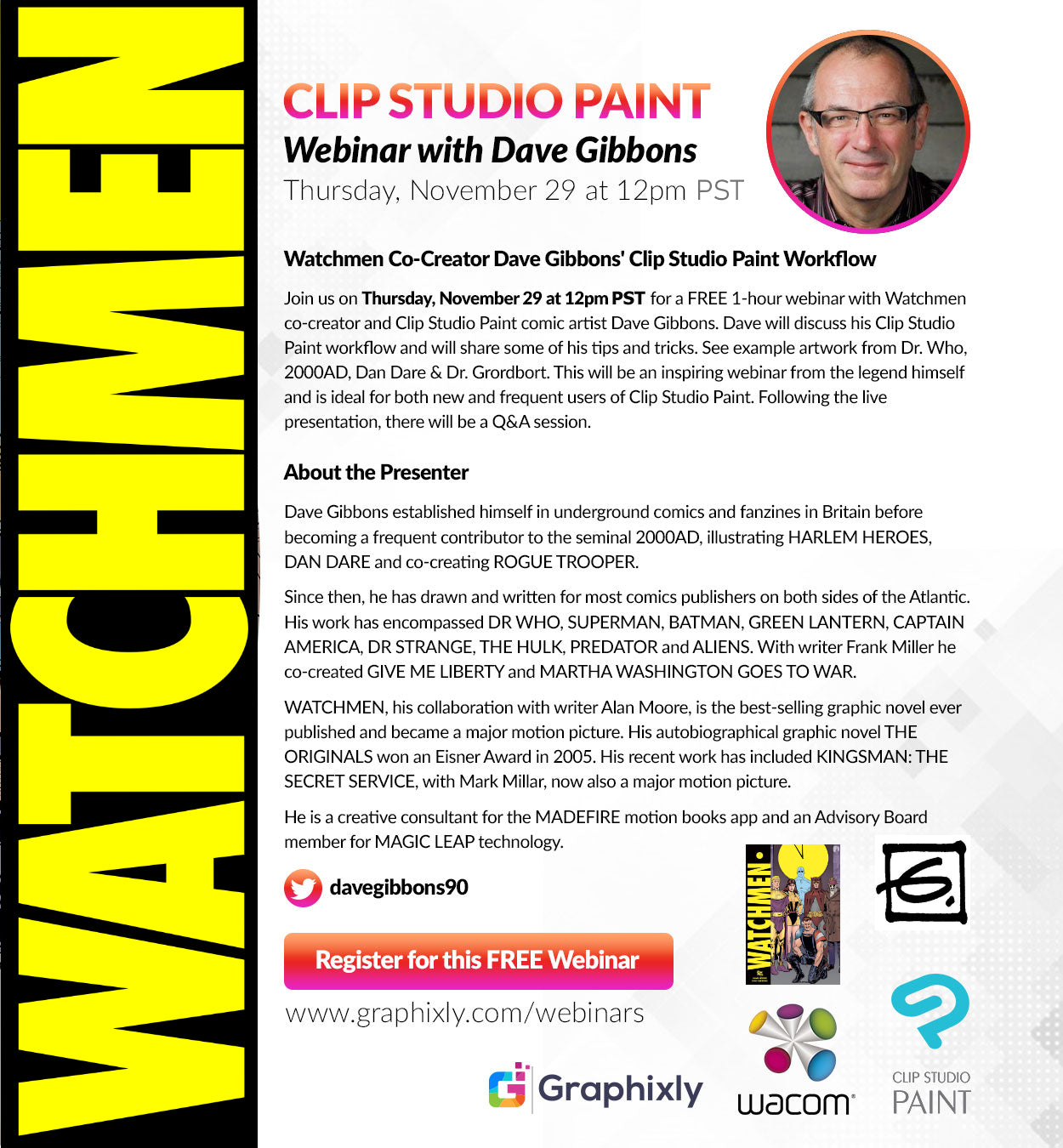 Webinar - WATCHMEN Co-Creator Dave Gibbons' CLIP STUDIO PAINT Workflow
Fahim Niaz @
WATCH THE WEBINAR RECORDING HERE 


Please register for Webinar - WATCHMEN Co-Creator Dave Gibbons' CLIP STUDIO PAINT Workflow at: 

Click here to register for this FREE Webinar
Description
Join us on Thursday, November 29 at 12pm PST for a FREE 1-hour webinar with Watchmen co-creator and Clip Studio Paint comic artist Dave Gibbons. Dave will discuss his Clip Studio Paint workflow and will share some of his tips and tricks. See example artwork from Dr. Who, 2000AD, Dan Dare & Dr. Grordbort. This will be an inspiring webinar from the legend himself and is ideal for both new and frequent users of Clip Studio Paint. Following the live presentation, there will be a Q&A session.
Click here to register for this FREE Webinar
About the Presenter
Dave Gibbons established himself in underground comics and fanzines in Britain before becoming a frequent contributor to the seminal 2000AD, illustrating HARLEM HEROES, DAN DARE and co-creating ROGUE TROOPER.
Since then, he has drawn and written for most comics publishers on both sides of the Atlantic. His work has encompassed DR WHO, SUPERMAN, BATMAN, GREEN LANTERN, CAPTAIN AMERICA, DR STRANGE, THE HULK, PREDATOR and ALIENS. With writer Frank Miller he co-created GIVE ME LIBERTY and MARTHA WASHINGTON GOES TO WAR.
WATCHMEN, his collaboration with writer Alan Moore, is the best-selling graphic novel ever published and became a major motion picture. His autobiographical graphic novel THE ORIGINALS won an Eisner Award in 2005. His recent work has included KINGSMAN: THE SECRET SERVICE, with Mark Millar, now also a major motion picture.
He is a creative consultant for the MADEFIRE motion books app and an Advisory Board member for MAGIC LEAP technology.
0 comments