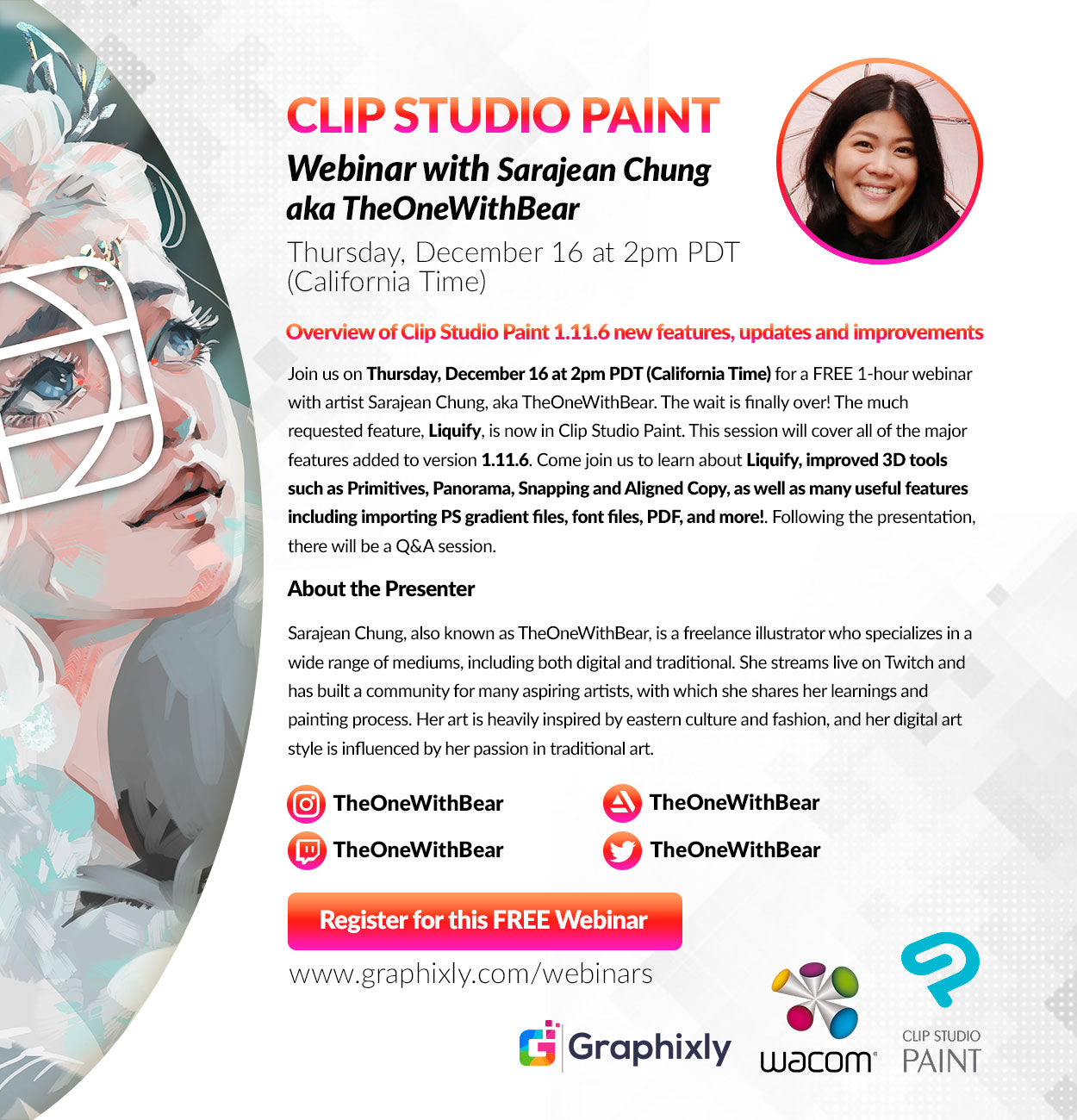 Webinar – Overview of Clip Studio Paint 1.11.6 new features, updates and improvements with Sarajean Chung
Contact Graphixly @
Please register for the Webinar – Overview of Clip Studio Paint 1.11.6 new features, updates and improvements with Sarajean Chung:
Click here to register for this FREE Webinar
Description
Join us on Thursday, December 16 at 2pm PDT (California Time) for a FREE 1-hour webinar with artist Sarajean Chung, aka TheOneWithBear. The wait is finally over! The much requested feature, Liquify, is now in Clip Studio Paint. This session will cover all of the major features added to version 1.11.6. Come join us to learn about Liquify, improved 3D tools such as Primitives, Panorama, Snapping and Aligned Copy, as well as many useful features including importing PS gradient files, font files, PDF, and more!. Following the presentation, there will be a Q&A session.
Click here to register for this FREE Webinar
About the presenter



Sarajean Chung, also known as TheOneWithBear, is a freelance illustrator who specializes in a wide range of mediums, including both digital and traditional. She streams live on Twitch and has built a community for many aspiring artists, with which she shares her learnings and painting process. Her art is heavily inspired by eastern culture and fashion, and her digital art style is influenced by her passion in traditional art.
Instagram: instagram.com/theonewithbear
Twitter: twitter.com/theonewithbear
Twitch: twitch.tv/theonewithbear
Artstation: arstation.com/theonewithbear
0 comments