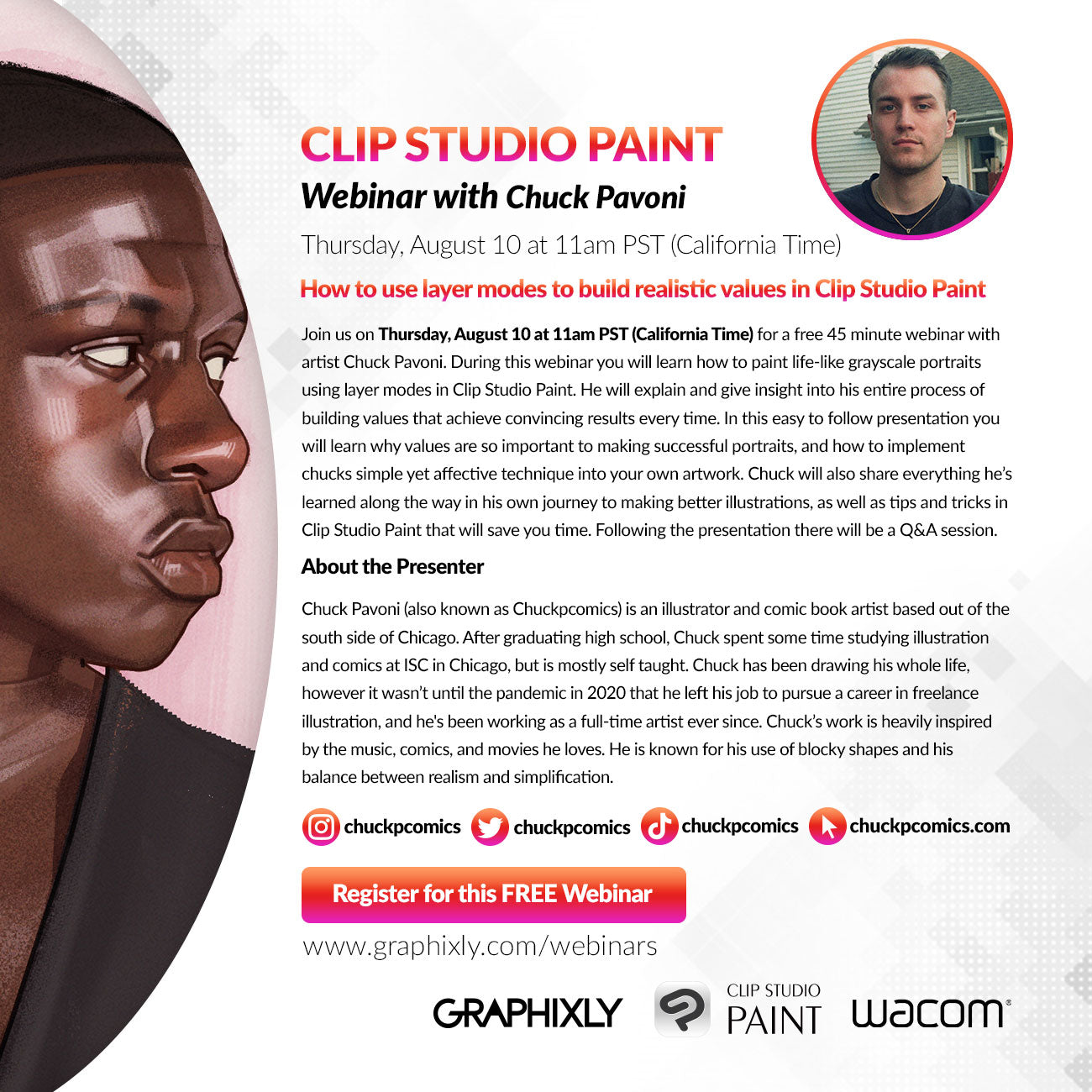 Webinar – How to use layer modes to build realistic values in Clip Studio Paint with Chuck Pavoni
Contact Graphixly @
Please register for the Webinar – How to use layer modes to build realistic values in Clip Studio Paint with Chuck Pavoni:
Click here to register for this FREE Webinar
Description
Join us on Thursday, August 10 at 11am PST (California Time) for a free 45 minute webinar with artist Chuck Pavoni. During this webinar you will learn how to paint life-like grayscale portraits using layer modes in Clip Studio Paint. He will explain and give insight into his entire process of building values that achieve convincing results every time. In this easy to follow presentation you will learn why values are so important to making successful portraits, and how to implement chucks simple yet affective technique into your own artwork. Chuck will also share everything he's learned along the way in his own journey to making better illustrations, as well as tips and tricks in Clip Studio Paint that will save you time. Following the presentation there will be a Q&A session.
Click here to register for this FREE Webinar
About the presenter
Chuck Pavoni (also known as Chuckpcomics) is an illustrator and comic book artist based out of the south side of Chicago. After graduating high school, Chuck spent some time studying illustration and comics at ISC in Chicago, but is mostly self taught. Chuck has been drawing his whole life, however it wasn't until the pandemic in 2020 that he left his job to pursue a career in freelance illustration, and he's been working as a full-time artist ever since. Chuck's work is heavily inspired by the music, comics, and movies he loves. He is known for his use of blocky shapes and his balance between realism and simplification.

Instagram: @chuckpcomics
TikTok: @chuckpcomics
Twitter: @chuckpcomics
Website: www.chuckpcomics.com
0 comments