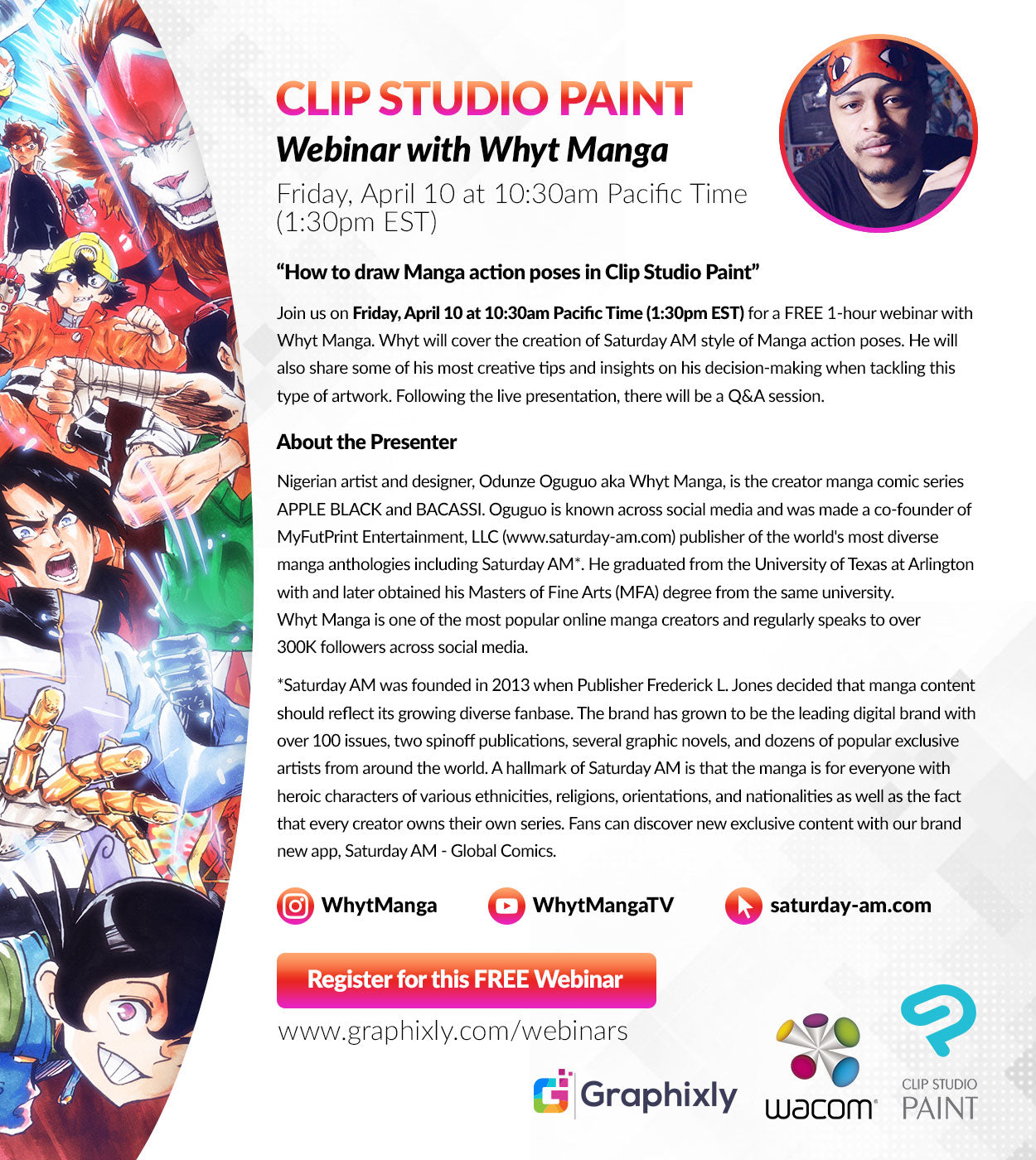 Webinar - "How to draw Manga action poses in Clip Studio Paint" with Whyt Manga
Contact Graphixly @
WATCH THE WEBINAR RECORDING HERE


Please register for Webinar - "How to draw Manga action poses in Clip Studio Paint" with Whyt Manga:
Click here to register for this FREE Webinar
Description
Join us on Friday, April 10 at 10:30am Pacific Time (1:30pm EST) for a FREE 1-hour webinar with Whyt Manga. Whyt will cover the creation of Saturday AM style of Manga action poses. He will also share some of his most creative tips and insights on his decision-making when tackling this type of artwork. Following the live presentation, there will be a Q&A session.
Click here to register for this FREE Webinar
About the presenter
Nigerian artist and designer, Odunze Oguguo aka Whyt Manga, is the creator manga comic series APPLE BLACK and BACASSI. Oguguo is known across social media and was made a co-founder of MyFutPrint Entertainment, LLC (www.saturday-am.com) publisher of the world's most diverse manga anthologies including Saturday AM*. He graduated from the University of Texas at Arlington with and later obtained his Masters of Fine Arts (MFA) degree from the same university. Whyt Manga is one of the most popular online manga creators and regularly speaks to over 300K followers across social media.
*Saturday AM was founded in 2013 when Publisher Frederick L. Jones decided that manga content should reflect its growing diverse fanbase. The brand has grown to be the leading digital brand with over 100 issues, two spinoff publications, several graphic novels, and dozens of popular exclusive artists from around the world. A hallmark of Saturday AM is that the manga is for everyone with heroic characters of various ethnicities, religions, orientations, and nationalities as well as the fact that every creator owns their own series. Fans can discover new exclusive content with our brand new app, Saturday AM - Global Comics.
IG: @whytmanga
Youtube: @WhytMangaTV
Website: www.saturday-am.com
0 comments