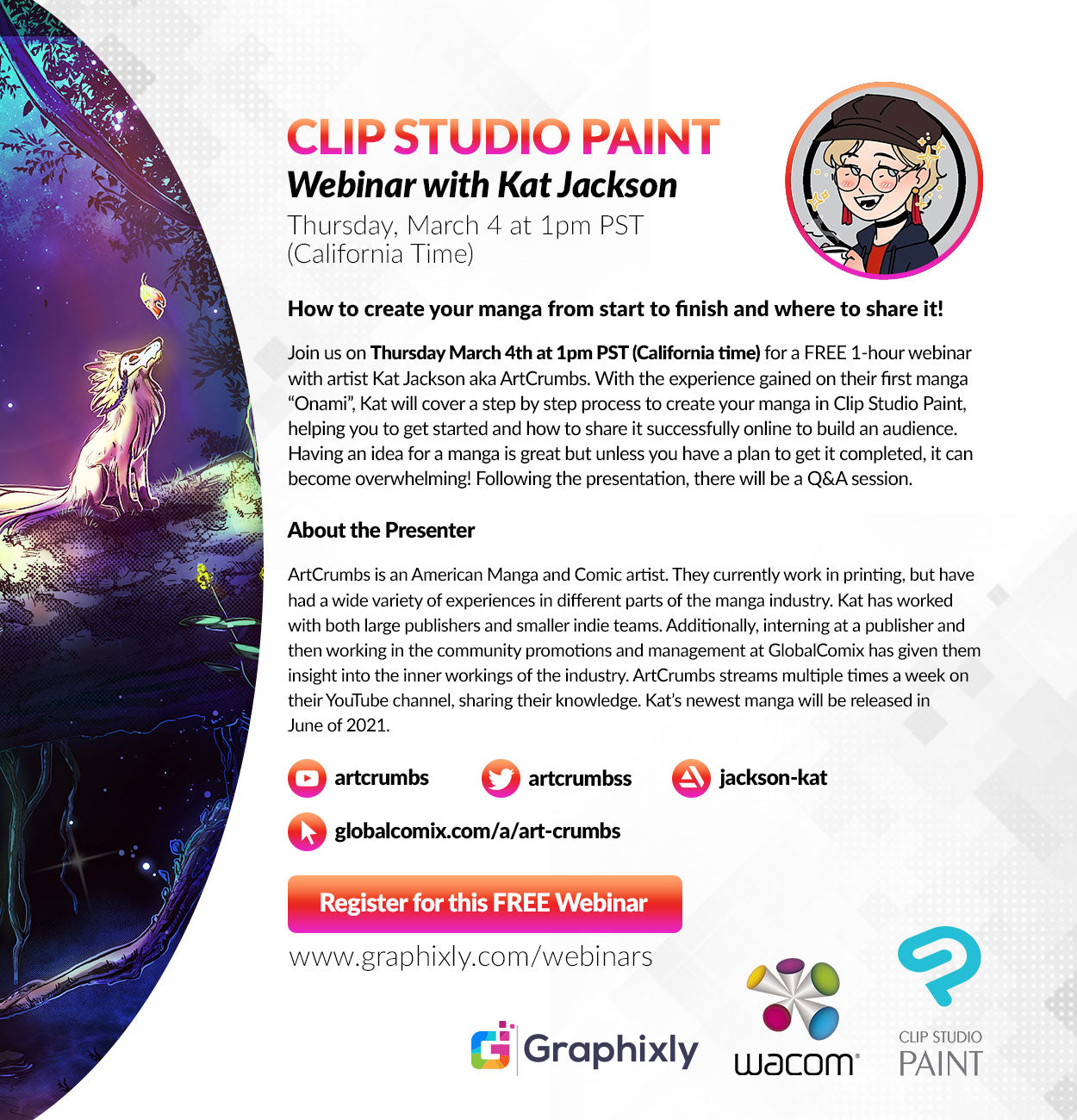 Webinar – How to create your manga from start to finish and where to share it! with Kat Jackson
Contact Graphixly @
WATCH THE WEBINAR RECORDING HERE
Please register for the Webinar – How to create your manga from start to finish and where to share it! with Kat Jackson:
Click here to register for this FREE Webinar
Description
Join us on Thursday March 4th at 1pm PST (California time) for a FREE 1-hour webinar with artist Kat Jackson aka ArtCrumbs. With the experience gained on their first manga "Onami", Kat will cover a step by step process to create your manga in Clip Studio Paint, helping you to get started and how to share it successfully online to build an audience. Having an idea for a manga is great but unless you have a plan to get it completed, it can become overwhelming! Following the presentation, there will be a Q&A session.
Click here to register for this FREE Webinar
About the presenter



ArtCrumbs is an American Manga and Comic artist. They currently work in printing, but have had a wide variety of experiences in different parts of the manga industry. Kat has worked with both large publishers and smaller indie teams. Additionally, interning at a publisher and then working in the community promotions and management at GlobalComix has given them insight into the inner workings of the industry. ArtCrumbs streams multiple times a week on their YouTube channel, sharing their knowledge. Kat's newest manga will be released in June of 2021.
Portfolio: https://www.artstation.com/jackson-kat
YouTube: https://www.youtube.com/c/Artcrumbs
Twitter: https://twitter.com/artcrumbss
Globalcomix: https://globalcomix.com/a/art-crumbs
0 comments