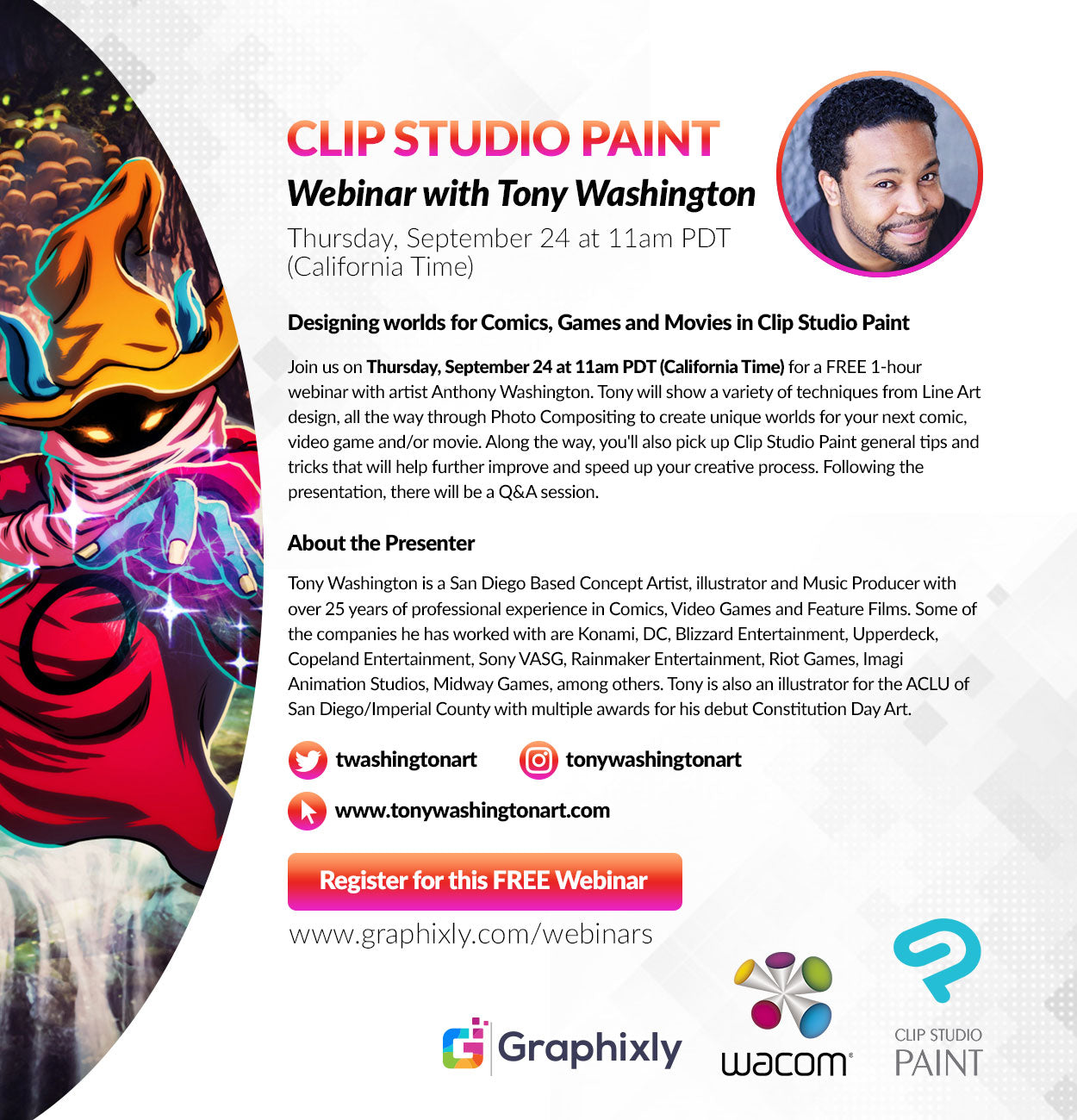 Webinar - "Designing worlds for Comics, Games and Movies in Clip Studio Paint" with Tony Washington
Contact Graphixly @
WATCH THE WEBINAR RECORDING HERE


Please register for Webinar - "Designing worlds for Comics, Games and Movies in Clip Studio Paint" with Tony Washington:
Click here to register for this FREE Webinar
Description
Join us on Thursday September 24 at 11am PDT (California Time) for a FREE 1-hour webinar with artist Anthony Washington. Tony will show a variety of techniques from Line Art design, all the way through Photo Compositing to create unique worlds for your next comic, video game and/or movie. Along the way, you'll also pick up Clip Studio Paint general tips and tricks that will help further improve and speed up your creative process. Following the presentation, there will be a Q&A session.
Click here to register for this FREE Webinar
About the presenter



Tony Washington is a San Diego Based Concept Artist, illustrator and Music Producer with over 25 years of professional experience in Comics, Video Games and Feature Films. Some of the companies he has worked with are Konami, DC, Blizzard Entertainment, Upperdeck, Copeland Entertainment, Sony VASG, Rainmaker Entertainment, Riot Games, Imagi Animation Studios, Midway Games, among others. Tony is also an illustrator for the ACLU of San Diego/Imperial County with multiple awards for his debut Constitution Day Art.


IG: @tonywashingtonart

Twiter: @twashingtonart

Website: www.tonywashingtonart.com
1 comments
This is a very interesting webinar for me, I would like you to inform me if it is going to be given soon but in Spanish.
Thank you.
Rodrigo Martin Maldonado @ 2020-10-02 10:02:34 -0700