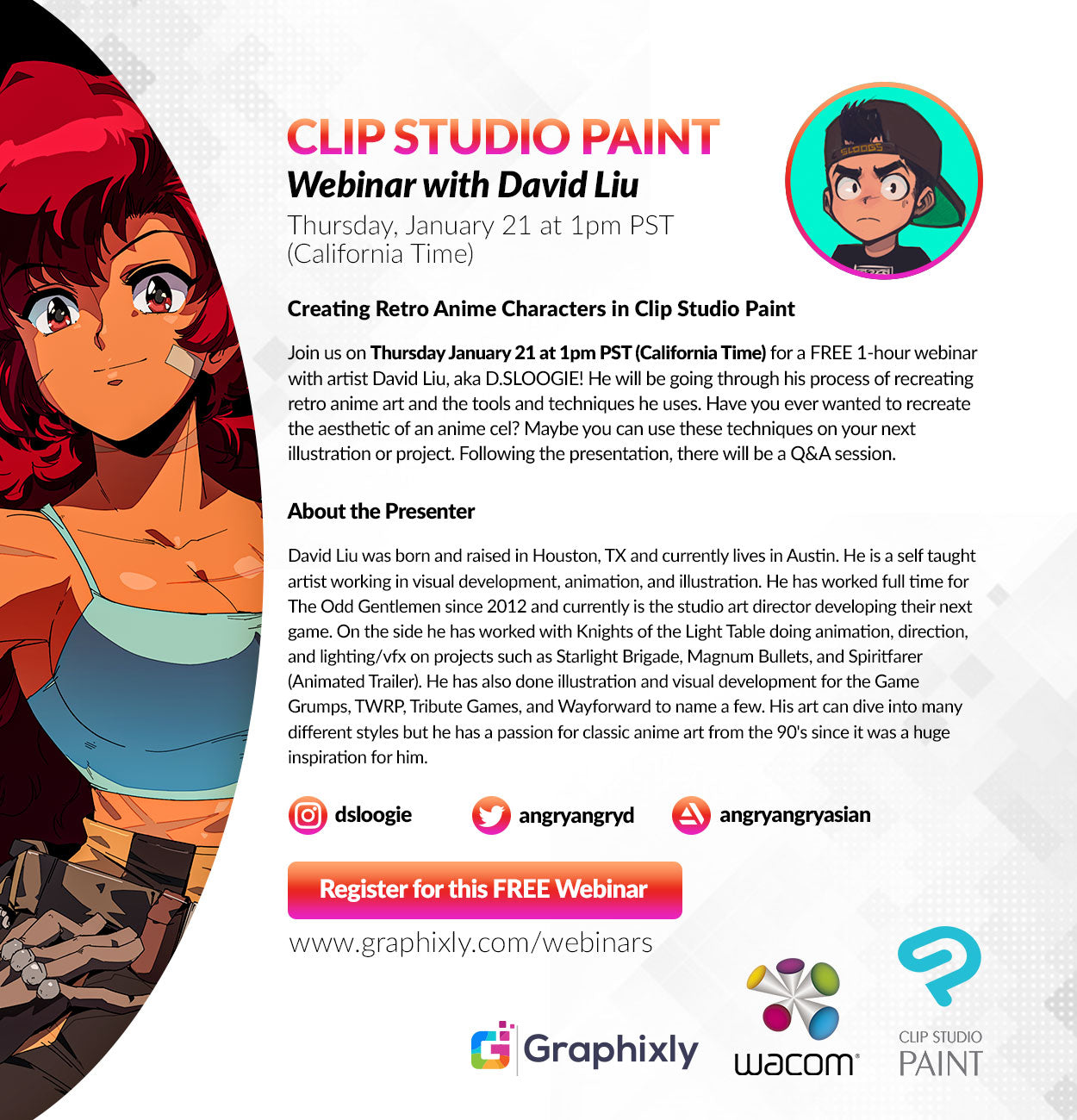 Webinar – Creating Retro Anime Characters in Clip Studio Paint with David Liu
Contact Graphixly @
WATCH THE WEBINAR RECORDING HERE!
Please register for the Webinar – Creating Retro Anime Characters in Clip Studio Paint with David Liu:
Click here to register for this FREE Webinar
Description
Join us on Thursday January 21 at 1pm PST (California Time) for a FREE 1-hour webinar with artist David Liu, aka D.SLOOGIE! He will be going through his process of recreating retro anime art and the tools and techniques he uses. Have you ever wanted to recreate the aesthetic of an anime cel? Maybe you can use these techniques on your next illustration or project. Following the presentation, there will be a Q&A session.
Click here to register for this FREE Webinar
About the presenter



David Liu was born and raised in Houston, TX and currently lives in Austin. He is a self taught artist working in visual development, animation, and illustration. He has worked full time for The Odd Gentlemen since 2012 and currently is the studio art director developing their next game. On the side he has worked with Knights of the Light Table doing animation, direction, and lighting/vfx on projects such as Starlight Brigade, Magnum Bullets, and Spiritfarer (Animated Trailer). He has also done illustration and visual development for the Game Grumps, TWRP, Tribute Games, and Wayforward to name a few. His art can dive into many different styles but he has a passion for classic anime art from the 90's since it was a huge inspiration for him.


IG: @dsloogie

Twiter: @angryangryd

Artstation: angryangryasian.artstation.com
1 comments
Hola me gusta como dibujas y solo quería preguntar q si me puedes hacer un dibujo luego te digo de que. . . . .
Iker Santiago Arteaga Moreno @ 2021-01-29 08:06:06 -0800