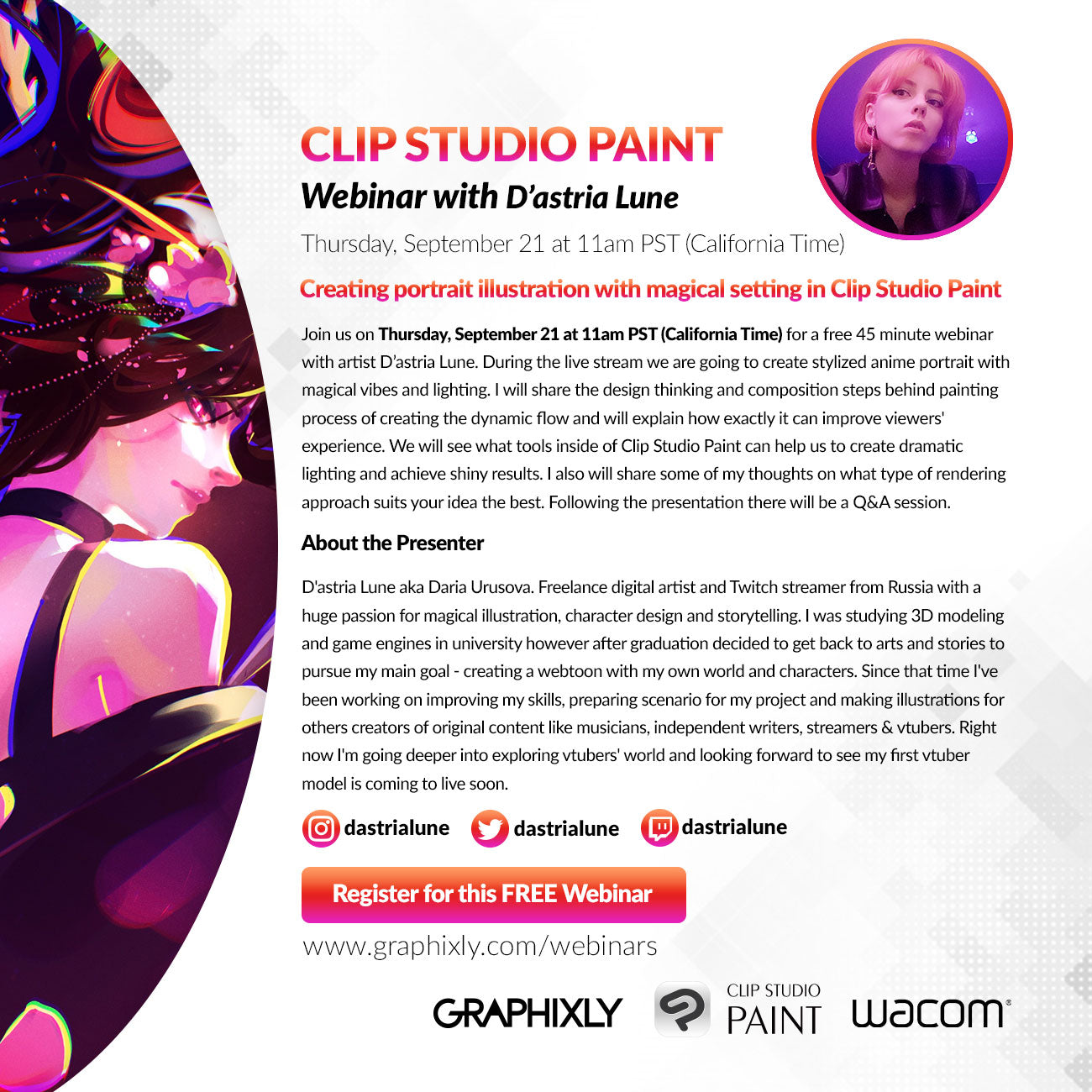 UPCOMING WEBINAR – Creating portrait illustration with magical setting in Clip Studio Paint with D'astria Lune
Contact Graphixly @
Please register for the Webinar – Creating portrait illustration with magical setting in Clip Studio Paint with D'astria Lune:
Click here to register for this FREE Webinar
Description
Join us on Thursday, September 21 at 11am PST (California Time) for a free 45 minute webinar with artist D'astria Lune. During the live stream we are going to create stylized anime portrait with magical vibes and lighting. I will share the design thinking and composition steps behind painting process of creating the dynamic flow and will explain how exactly it can improve viewers' experience. We will see what tools inside of Clip Studio Paint can help us to create dramatic lighting and achieve shiny results. I also will share some of my thoughts on what type of rendering approach suits your idea the best. Following the presentation there will be a Q&A session.
Click here to register for this FREE Webinar
About the presenter
D'astria Lune aka Daria Urusova. Freelance digital artist and Twitch streamer from Russia with a huge passion for magical illustration, character design and storytelling. I was studying 3D modeling and game engines in university however after graduation decided to get back to arts and stories to pursue my main goal - creating a webtoon with my own world and characters. Since that time I've been working on improving my skills, preparing scenario for my project and making illustrations for others creators of original content like musicians, independent writers, streamers & vtubers. Right now I'm going deeper into exploring vtubers' world and looking forward to see my first vtuber model is coming to live soon.

Instagram: @dastrialune
Twitter: @dastrialune
Twitter: @dastrialune
0 comments