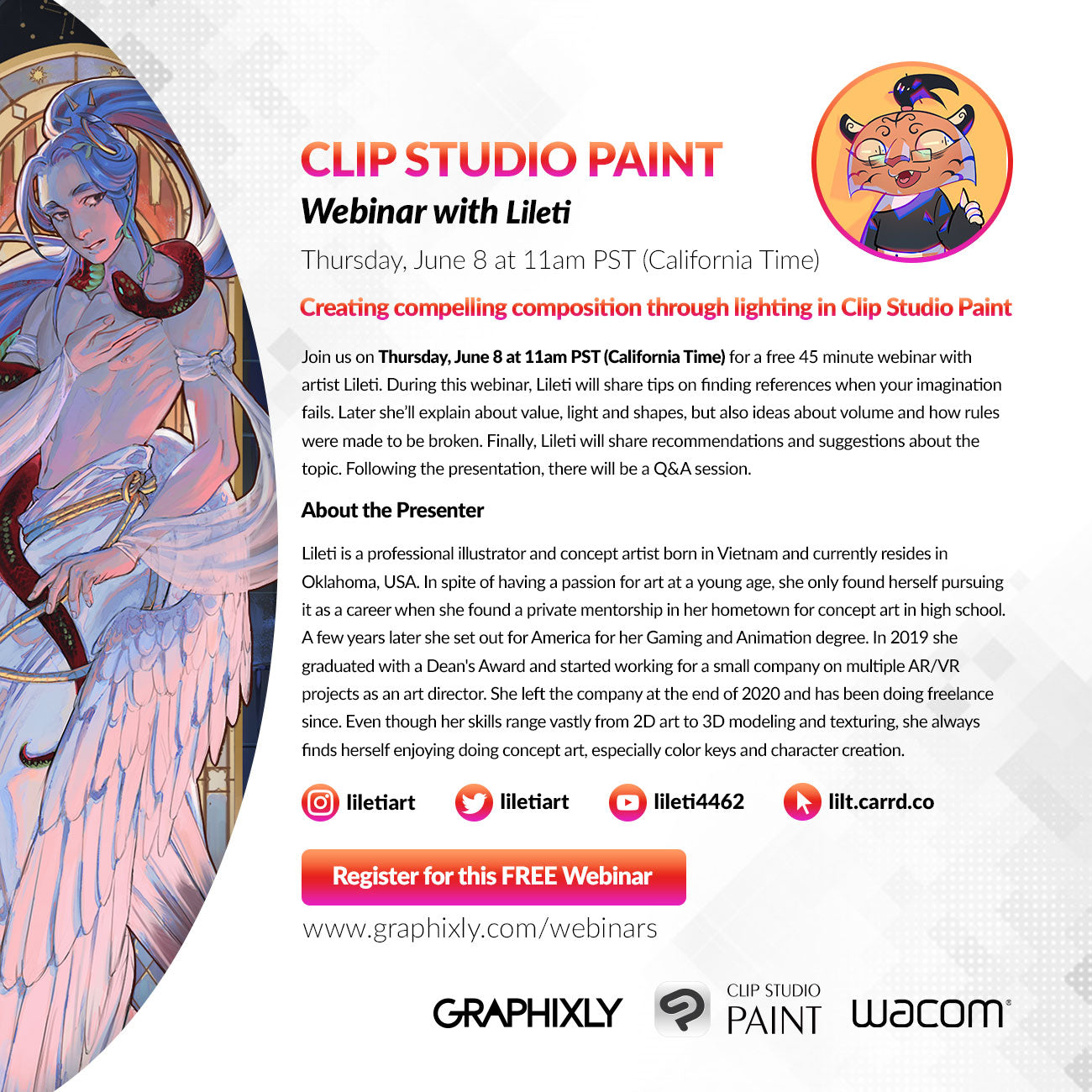 Webinar – Creating compelling composition through lighting in Clip Studio Paint with Lileti
Contact Graphixly @
Please register for the Webinar – Creating compelling composition through lighting in Clip Studio Paint with Lileti:
Click here to register for this FREE Webinar
Description
Join us on Thursday, June 8 at 11am PST (California Time) for a free 45 minute webinar with artist Lileti. During this webinar, Lileti will share tips on finding references when your imagination fails. Later she'll explain about value, light and shapes, but also ideas about volume and how rules were made to be broken. Finally, Lileti will share recommendations and suggestions about the topic. Following the presentation, there will be a Q&A session.
Click here to register for this FREE Webinar
About the presenter
Lileti is a professional illustrator and concept artist born in Vietnam and currently resides in Oklahoma, USA. In spite of having a passion for art at a young age, she only found herself pursuing it as a career when she found a private mentorship in her hometown for concept art in high school. A few years later she set out for America for her Gaming and Animation degree. In 2019 she graduated with a Dean's Award and started working for a small company on multiple AR/VR projects as an art director. She left the company at the end of 2020 and has been doing freelance since. Even though her skills range vastly from 2D art to 3D modeling and texturing, she always finds herself enjoying doing concept art, especially color keys and character creation.

Instagram: @liletiart
Twitter: @liletiart
Youtube: @lileti4462
Website: lileti.carrd.co
0 comments