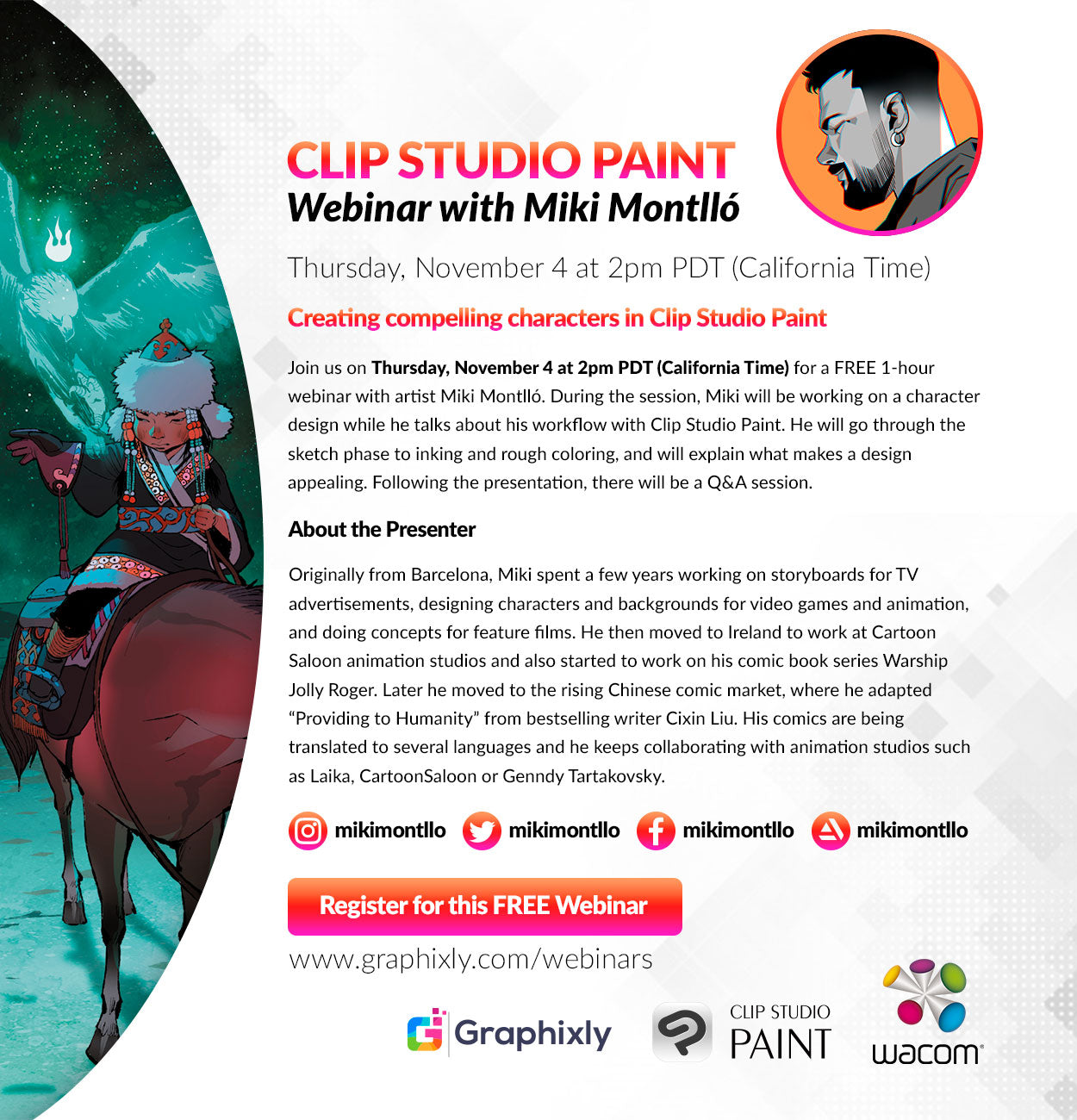 Webinar – Creating compelling characters in Clip Studio Paint with Miki Montlló
Contact Graphixly @
WATCH THE WEBINAR RECORDING HERE
Please register for the Webinar – Creating compelling characters in Clip Studio Paint with Miki Montlló:
Click here to register for this FREE Webinar
Description
Join us on Thursday, November 4 at 2pm PDT (California Time) for a FREE 1-hour webinar with artist Miki Montlló. During the session, Miki will be working on a character design while he talks about his workflow with Clip Studio Paint. He will go through the sketch phase to inking and rough coloring, and will explain what makes a design appealing. Following the presentation, there will be a Q&A session.
Click here to register for this FREE Webinar
About the presenter



Originally from Barcelona, Miki spent a few years working on storyboards for TV advertisements, designing characters and backgrounds for video games and animation, and doing concepts for feature films. He then moved to Ireland to work at Cartoon Saloon animation studios and also started to work on his comic book series Warship Jolly Roger. Later he moved to the rising Chinese comic market, where he adapted "Providing to Humanity" from bestselling writer Cixin Liu. His comics are being translated to several languages and he keeps collaborating with animation studios such as Laika, CartoonSaloon or Genndy Tartakovsky.


IG: @mikimontllo
Twitter: @mikimontllo
Facebook: @mikimontllo
ArtStation: @mikimontllo
Behance: @mikimontllo
2 comments
Graphixly @ 2021-11-04 12:14:42 -0700
Hi! May I kindly ask if the certificate that will be given to us will have the date and time on when the webinar held? Thank you!
Alex Martinez @ 2021-11-04 12:13:35 -0700