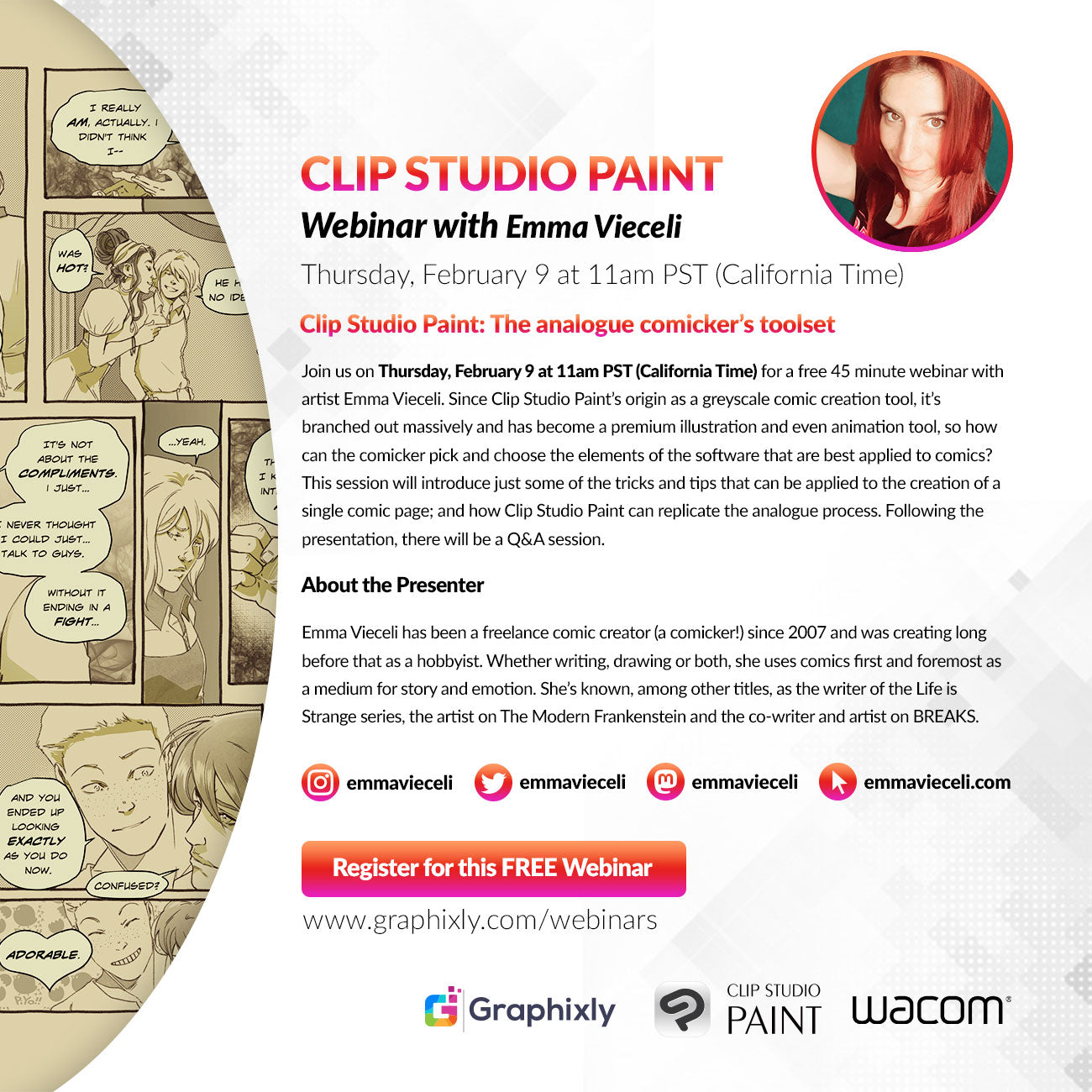 Webinar – Clip Studio Paint: The analogue comicker's toolset with Emma Vieceli
Contact Graphixly @
Please register for the Webinar – Clip Studio Paint: The analogue comicker's toolset with Emma Vieceli:
Click here to register for this FREE Webinar
Description
Join us on Thursday, February 9 at 11am PST (California Time) for a free 45 minute webinar with artist Emma Vieceli. Since Clip Studio Paint's origin as a greyscale comic creation tool, it's branched out massively and has become a premium illustration and even animation tool, so how can the comicker pick and choose the elements of the software that are best applied to comics? This session will introduce just some of the tricks and tips that can be applied to the creation of a single comic page; and how Clip Studio Paint can replicate the analogue process. Following the presentation, there will be a Q&A session.
Click here to register for this FREE Webinar
About the presenter
Emma Vieceli has been a freelance comic creator (a comicker!) since 2007 and was creating long before that as a hobbyist. Whether writing, drawing or both, she uses comics first and foremost as a medium for story and emotion. She's known, among other titles, as the writer of the Life is Strange series, the artist on The Modern Frankenstein and the co-writer and artist on BREAKS.

Instagram: @emmavieceli
Twitter: @emmavieceli
Mastodon: emmavieceli@mastodon.art
Website: emmavieceli.com
1 comments
Will a replay be available?
Thank you.
Tay @ 2023-02-23 10:38:46 -0800