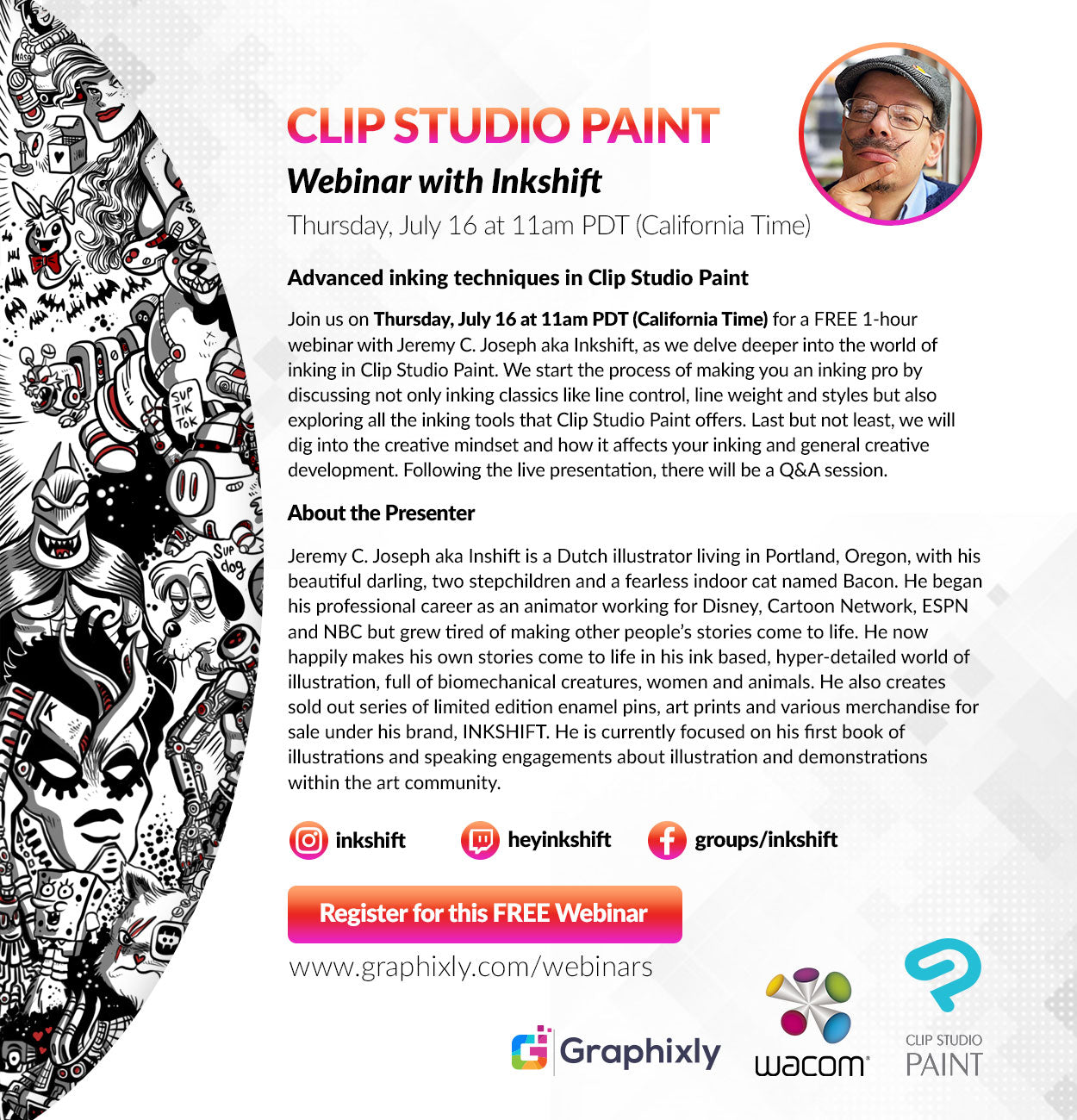 Webinar - "Advanced inking techniques in Clip Studio Paint" with Inkshift
Contact Graphixly @
WATCH THE WEBINAR RECORDING HERE


Please register for Webinar - "Advanced inking techniques in Clip Studio Paint" with Inkshift:
Click here to register for this FREE Webinar
Description
Join us on Thursday, July 16 at 11am PDT (California Time) for a FREE 1-hour webinar with Jeremy C. Joseph aka Inkshift, as we delve deeper into the world of inking in Clip Studio Paint. We start the process of making you an inking pro by discussing not only inking classics like line control, line weight and styles but also exploring all the inking tools that Clip Studio Paint offers. Last but not least, we will dig into the creative mindset and how it affects your inking and general creative development. Following the live presentation, there will be a Q&A session.
Click here to register for this FREE Webinar
About the presenter



Jeremy C. Joseph aka Inshift is a Dutch illustrator living in Portland, Oregon, with his beautiful darling, two stepchildren and a fearless indoor cat named Bacon. He began his professional career as an animator working for Disney, Cartoon Network, ESPN and NBC but grew tired of making other people's stories come to life. He now happily makes his own stories come to life in his ink based, hyper-detailed world of illustration, full of biomechanical creatures, women and animals. He also creates sold out series of limited edition enamel pins, art prints and various merchandise for sale under his brand, INKSHIFT. He is currently focused on his first book of illustrations and speaking engagements about illustration and demonstrations within the art community.
IG: @inkshift
Facebook: groups/inkshift
Twitch.tv: @heyinkshift
0 comments