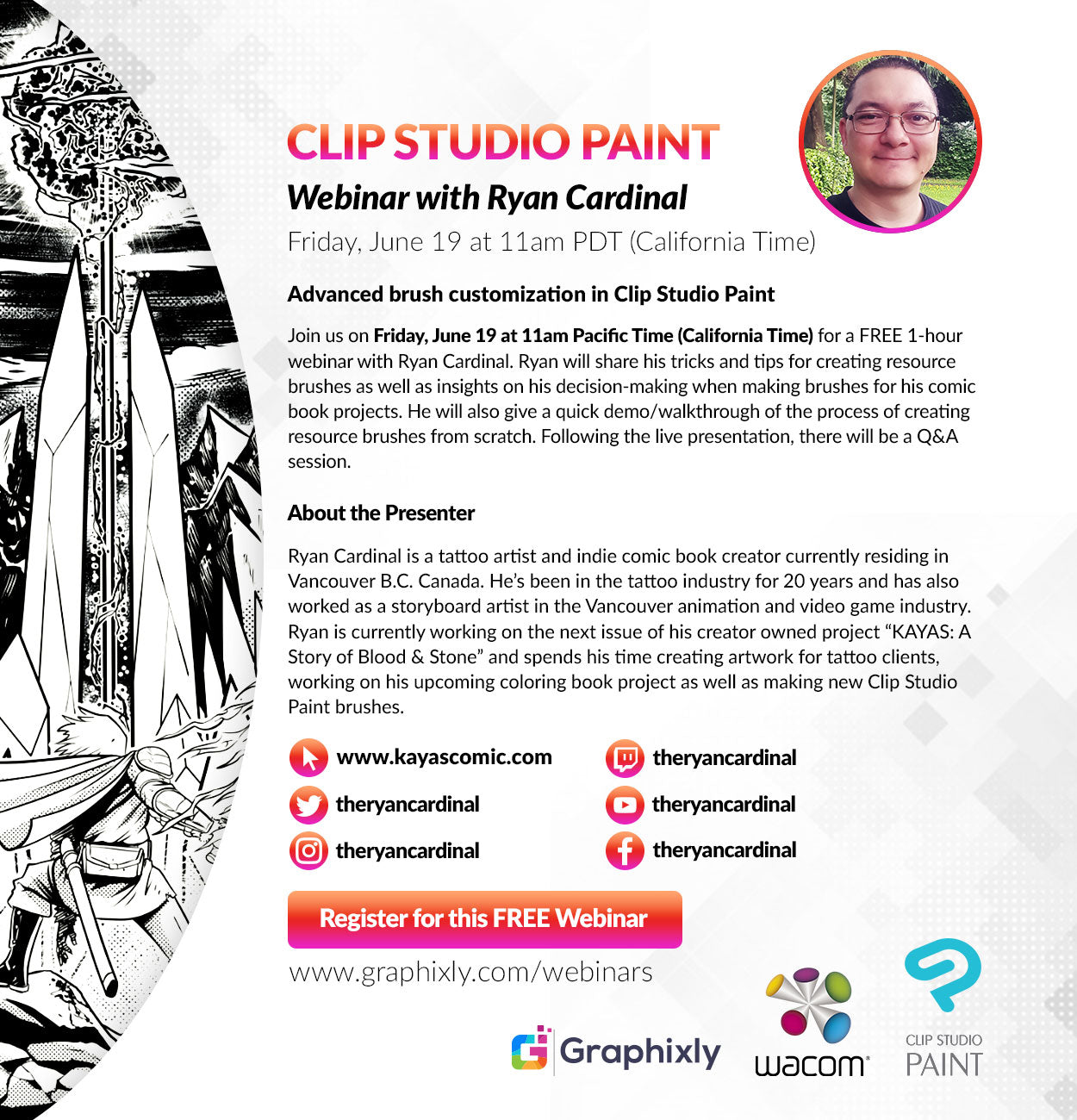 Webinar - "Advanced brush customization in Clip Studio Paint" with Ryan Cardinal
Contact Graphixly @
WATCH THE WEBINAR RECORDING HERE


Please register for Webinar - "Making an Animated Short film in Clip Studio Paint" with Luciannys Camacho:
Click here to register for this FREE Webinar
Description
Join us on Friday, June 19 at 11am Pacific Time (California Time) for a FREE 1-hour webinar with Ryan Cardinal. Ryan will share his tricks and tips for creating resource brushes as well as insights on his decision-making when making brushes for his comic book projects. He will also give a quick demo/walkthrough of the process of creating resource brushes from scratch. Following the live presentation, there will be a Q&A session.
Click here to register for this FREE Webinar
About the presenter


Ryan Cardinal is a tattoo artist and indie comic book creator currently residing in Vancouver B.C. Canada. He's been in the tattoo industry for 20 years and has also worked as a storyboard artist in the Vancouver animation and video game industry. Ryan is currently working on the next issue of his creator owned project "KAYAS: A Story of Blood & Stone" and spends his time creating artwork for tattoo clients, working on his upcoming coloring book project as well as making new Clip Studio Paint brushes.

Instagram: @theryancardinal

Youtube: https://www.youtube.com/theryancardinal

Twitter: @theryancardinal

Twitch: theryancardinal

Facebook: theryancardinal

Website: www.kayascomic.com
1 comments
Great webinar Ryan! I am very interested in purchasing your Snake dragon scale brushes with template(s). However, I am not a member of any social media network (work security issues and confidentiality agreements limit this avenue for me) as such I can't seem to find any other way to purchase this from you. If I use pay pal or bank deposit can you post me a download link? Or is there some other method available? Thank you for taking the time to consider this note.
Patrick Danahey @ 2020-06-26 05:53:14 -0700