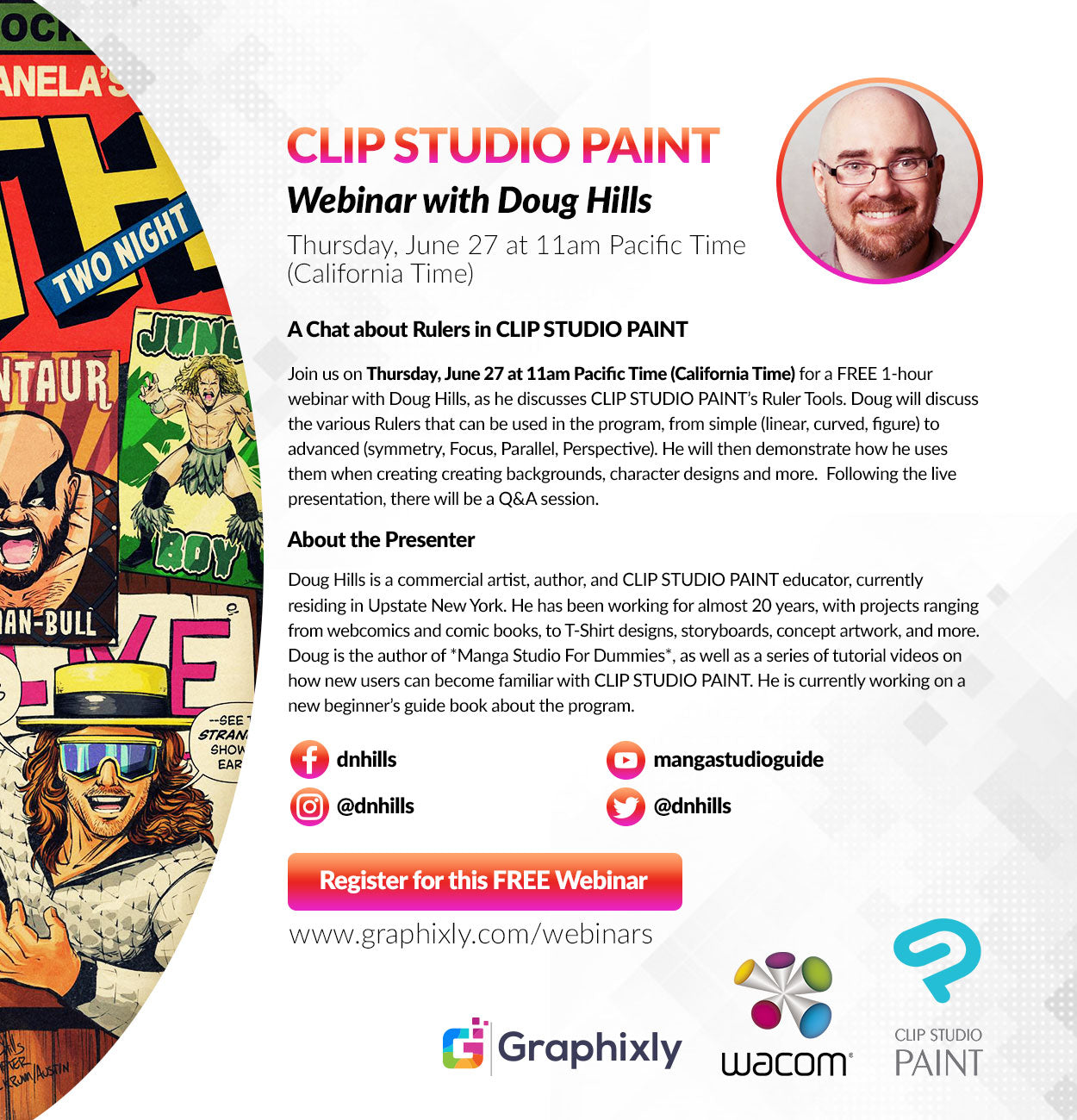 Webinar – A Chat about Rulers in CLIP STUDIO PAINT
Contact Graphixly @
WATCH THE WEBINAR RECORDING HERE


Please register for Webinar – A Chat about Rulers in CLIP STUDIO PAINT with Doug Hills:

Click here to register for this FREE Webinar
Description
Join us on Thursday, June 27 at 11am Pacific Time (California Time) for a FREE 1-hour webinar with Doug Hills, as he discusses CLIP STUDIO PAINT's Ruler Tools. Doug will discuss the various Rulers that can be used in the program, from simple (linear, curved, figure) to advanced (symmetry, Focus, Parallel, Perspective). He will then demonstrate how he uses them when creating creating backgrounds, character designs and more.  Following the live presentation, there will be a Q&A session.
Click here to register for this FREE Webinar
About the Presenter
Doug Hills is a commercial artist, author, and CLIP STUDIO PAINT educator, currently residing in Upstate New York. He has been working for almost 20 years, with projects ranging from webcomics and comic books, to T-Shirt designs, storyboards, concept artwork, and more. 

Doug is the author of *Manga Studio For Dummies*, as well as a series of tutorial videos on how new users can become familiar with CLIP STUDIO PAINT. He is currently working on a new beginner's guide book about the program.
Twitter: @dnhills
Instagram: @dnhills
Facebook: /dnhills
Youtube: /mangastudioguide
0 comments