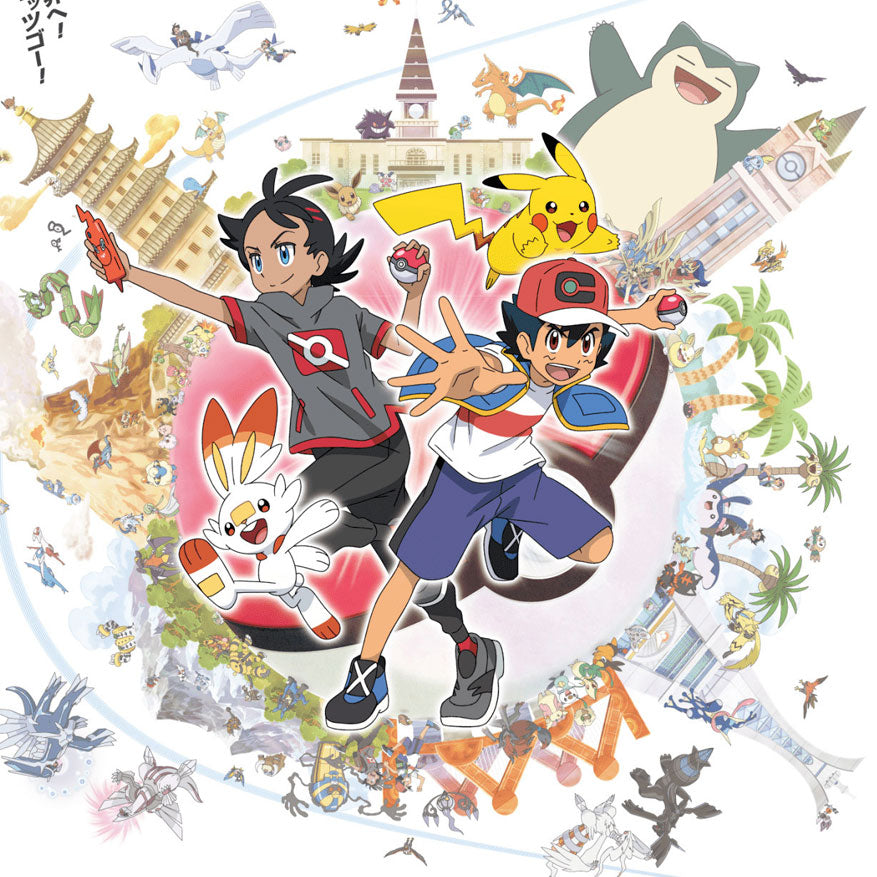 OLM Asia Launches New Pokémon Animation Series with the Help of Celsys' Clip Studio Paint
Contact Graphixly @
For Japanese animation studio OLM Group, the debut of their latest entry in the Pokémon anime series is testament to their expansion strategy into Malaysia, which enabled them to enlist and train the additional 2D artists needed to produce their highly acclaimed and hugely successful show. And it was Celsys' Clip Studio Paint that provided the digital painting tools needed to produce the hand-drawn animation look at the heart of the show's signature visual design and appeal.
Established in 1994 as an animation and video production studio, OLM Group produces 2D and 3D animation as well as VFX for a number of top shows, including the hit Pokémon series. OLM is currently branching out into overseas TV series and film production. In December 2017, the company launched their Malaysian studio, OLM Asia SDN BHD, in Kuala Lumpur's Cyberjaya district, to expand their digital animation and finishing capacity. OLM Asia helps keep the studio's tradition of hand-drawn Japanese Animation alive, housing two Japanese sakuga staff who mentor local animators. A typical animator would train for two months before entering the production force; more than several dozen newly trained animators are now working at the Malaysian studio.
According to animation producer, Mr. Hiroyuki Kato, their method of anime production is both time consuming and exacting in its hand-drawn style. "Pokémon is the latest series being produced at OLM Asia, and it's significant in that it utilizes important and specific digital animation tools needed to help artists keep up with the high production speed of anime, which often requires over 300 shots or 4,000 - 5,000 individual drawings per episode."
OLM Asia animation producer, Mr. Hiroyuki Kato.
To capture the hand-drawn look and feel so important to traditional anime, the studio uses Clip Studio Paint in its growing digital production pipeline. "Clip Studio Paint is used in the genga (keyframe) and sakuga (inking/inbetweening) stages of production," Kato adds. "Anime production, for the most part, is still done with pen and paper. This results in slower production speeds and potential danger to work, as the sheets need to be sent physically via mail and could be lost or even destroyed. OLM is attempting to break away from this by digitizing our workflow, adopting Clip Studio Paint based on its affordability, high-quality brush engine, and intuitive animation tools, all while providing the all-important 'feel' of pen and paper, making it possible for seasoned professionals to smoothly integrate digital animation and newcomers to learn from them quickly. It also fits nicely into the paper-based workflow we've established over many years of production."
Kato also shares that OLM's expansion also helps address an issue unique to the "traditional" animation industry in Japan. "Our country is currently facing an aging society, with the population decreasing by 400,000 each year," he shares. "Although the anime industry has valuable skills and knowledge, the current situation leaves producers with no successors, especially from younger generations. In light of this, we turned our gaze to not only Japan, but overseas. We chose Malaysia due to its use of English as a common language and its high educational standards. Here we established our studio to maintain the quality of Japanese animation and preserve our skills and knowledge."
OLM Asia, which opened December 2017 in the Cyberjaya district of Kuala Lumpur, Malaysia.
Mr. Jason Chng Oon Seongm, an OLM animator, joined the company with the hopes of one day becoming a director. "I first learned that OLM Asia was looking for animators to work at a new office at their Comic Festa 2017 booth in Kuala Lumpur, Malaysia," he explains. "After that, I became interested in Japan's animation industry and decided to work at their studio." For Seongm, Clip Studio Paint is a key tool in his workflow. "I really enjoy using Clip Studio Paint," he says. "It's very responsive, lightweight, and has an intuitive user interface. I also like that I can both animate and illustrate using the same software."

"With the digital era of animation, physical limitations of distance have disappeared," the animator adds. "This was another reason that OLM decided to expand overseas to Malaysia. We hope that OLM Asia grows to not only work as a studio for outsourced animation, but a fully-fledged contract studio at the same level as our Japan headquarters."
ARTICLE WRITTEN IN Animation World Network AWN.COM
by By Dan Sarto | Tuesday, November 26, 2019 at 10:37am


Read original article here: 
https://www.awn.com/animationworld/olm-asia-launches-new-pok-mon-animation-series-help-celsys-clip-studio-paint
1 comments
animated movies/series are the best thing that ever happened. i enjoy watching it as much as i enjoy eating food. the best part of it all is when i sing along with the characters, i learn a great deal from them as well when it comes to good manners. whenever i am sad, the animation movie seems like a good therapy.If you are looking for an amazing site to get more information, then I have what you need. This link would grant you access to interesting articles that would be very useful and informative to you, and I would appreciate it if you visit my site. Many thanks.
Fejiro @ 2020-08-21 07:25:05 -0700