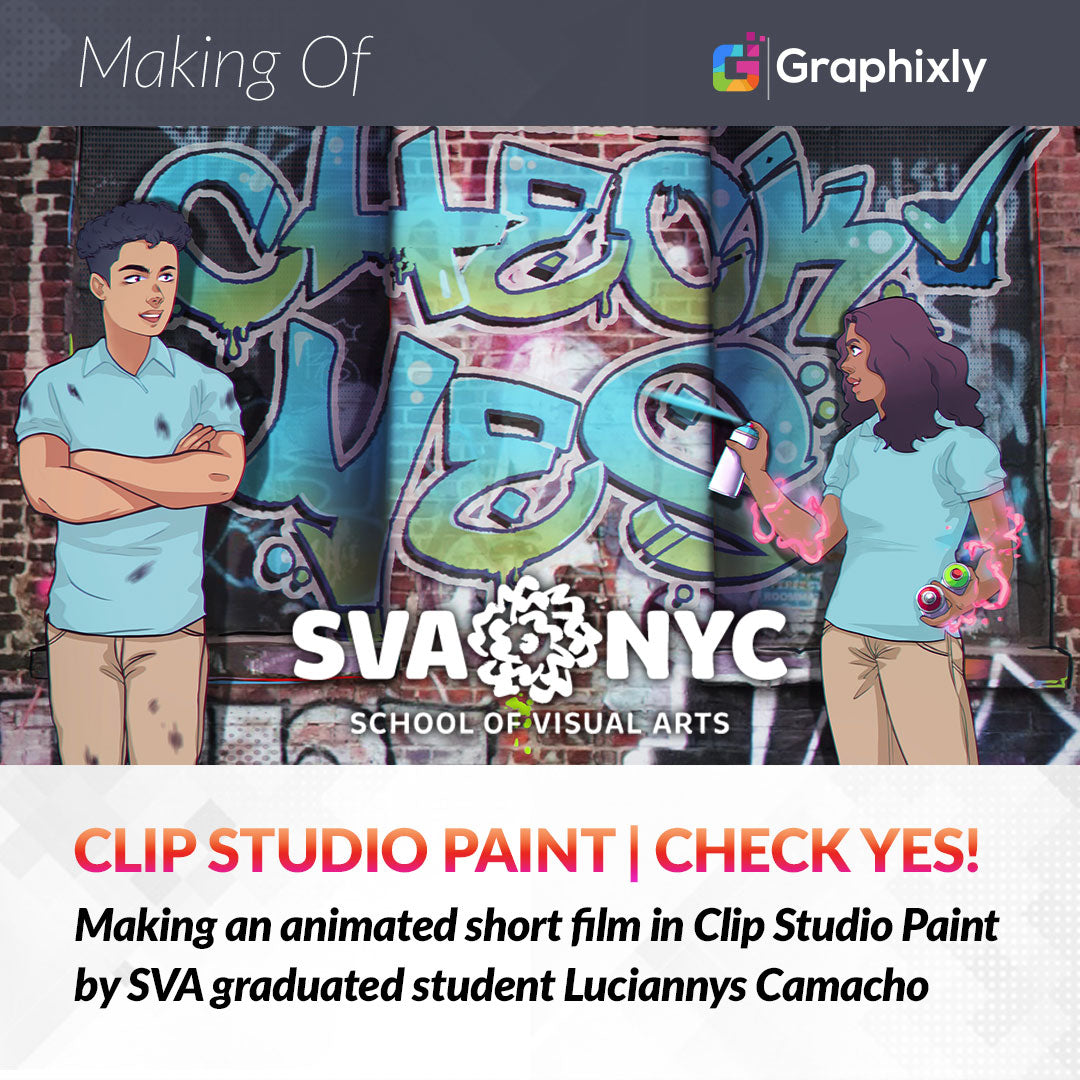 Making an animated short film in Clip Studio Paint by SVA graduated student Luciannys Camacho
Contact Graphixly @
How did you become an artist? 

I've always been that art kid at school. Art was always that happy place to unwind and breathe. I ended up at the School of Visual Arts NYC after high school and decided to major in Computer Art, 3D Animation, and Visual Effects (yes it's one major!). Thought university I entered the convention scene which inspired me to try to build myself as an artist more seriously on social media. I've learned a lot through school and surrounding myself with industry professionals and small artists on Instagram and Twitter!
What's your film about? 

My film takes place in Inwood, NYC and follows the story of Dominican seventeen year old Reineldis De La Cruz. She's a young aspiring hero along side her best friend Javier Reyes. Reineldis really wants to be a hero and to go to a hero training academy after high school graduation. Her mother Giselle, who has no powers of her own, is against it because of the danger hero work has. However, Reineldis proves to her mother and herself that she has what it takes while waiting for her mom at the salon. What inspired me was my own life and journey to SVA as a first generation American and the first person to pursue art and entertainment in my family. While going through my four years at school I noticed how supportive a lot of people's families were while mine were lukewarm at best. It was expensive and a huge risk to be at art school. I never really received much committed positive reinforcement outside of my mom and dad. I commuted from school away from home so I spent a lot of time going home to family members who didn't know what I did and didn't care to find out. I had to seek help and comfort from friends and trusted professors. Just like Reineldis I pursued a path my family wasn't familiar with and it took a lot of self doubt and conquering it to show myself and my family what my true powers were. What I and Reineldis learned through out this process was that the approval of family isn't nearly as important as your own happiness, even if that means going against the grain in order to do so.


Why did you decide to make a mixed media project?

I did a mixed media project solely because I wanted to push the boundaries and stand out. I always knew my tastes were quite different from my peers and I was forcing myself into the hyper realistic or Pixar-esque aesthetic that my school was known for. However I didn't have the money, experience, or confidence in my skills to do a hyper realistic, sci fi visual effects film. It took a trusted professor to snap me out of forcing it and to do what was authentic to me. I was happiest when I drew, so I went in the stylized, mixed media route. It ended in my favor because I don't think I could've conveyed my style as an artist and simultaneously express the essence of Inwood in an entirely live action film. It also gave my an opportunity to involve as many diverse people as possible, specifically Latinx people.


Why did you consider Clip Studio Paint for the creation of your film?

I was already using the program for a very long time for my illustrations. After working with Clip Studio and testing out the animation tools, I was sold. Without any prior experience I was able to do some clean and professional looking animations just in the three hours I sat there. It was set up in a way that my mind was able to figure out as an illustrator. A major plus was the availability of different brushes and tools in such a simple way. Barely any hassle and it was very straight to the point which is great on a time constraint. It was there for me on the go as a commuter as well. I could animate on the train home on my iPad!


What stage(s) of the production process did you use Clip Studio Paint?

I used it for everything I could. I used it for concept art, storyboards, 2D asset making, matte painting, animating, and even roto paint work.


Did Clip Studio Paint achieve your expectations as a professional illustration/animation software?

It blew my expectations out the water. It was able to get me in a place where as a complete stranger to the film making process, I could pick up new skills in a way that made sense to the illustration/composting mind set I was so used to. It was so flexible and it helped me get around a lot of things I didn't know how to do in traditional VFX and Animation programs. Also helps that I didn't have to acquire several different software, I was all in Clip Studio ready to go.


Which Clip Studio Paint tool(s) made it easier to develop your project?

Definitely the brushes, export options, the coordination between the layers panel and the animation timeline, the magic wand tool, and the gradient tool.


Did you use other software on the production of your film?

I also heavily used after effects for motion graphics work and compositing/editing!


How long did it take you to complete the film?

It took about one year and eight months to complete it from start to finish. I hit the drawing board on my story hundreds of times. I totaled out to seven versions of my storyboard and even then some things changed on set as we filmed on the spot. Of course, the corona virus also impacted the length pace of the film's completion since it hit in the peak of production/post production.


Where can we watch your film?

You can watch it on YouTube on my channel!


Where can we follow your work?

You can watch my work and follow me on

Instagram.com/opal_lines
- - - - - - - - - - - - -

David Heredia, BFA Thesis Professor at the School of Visual Arts and Creator of Heroes of Color

How do you think Clip Studio Paint benefited Lucianny's project?

She was able to create visuals for her films that were close or exactly on model to her pre production work. She was so comfortable with the program, so it was great that she could stick with it for so many parts of the production pipeline. I think it ultimately helped remedy an issue of consistency that may have arisen in switching between programs.



How do you think Clip Studio Paint compares with other industry tools?

Clip Studio Paint is a strong contender to many animation and illustrational tools that I have seen. Its affordability make it a good yet accessible tool to those who may not have the budget to make amazing work.



Would you recommend Clip Studio Paint for your student's projects?

Absolutely. I will be mentioning the program to my students in the future as an option for their work.





0 comments