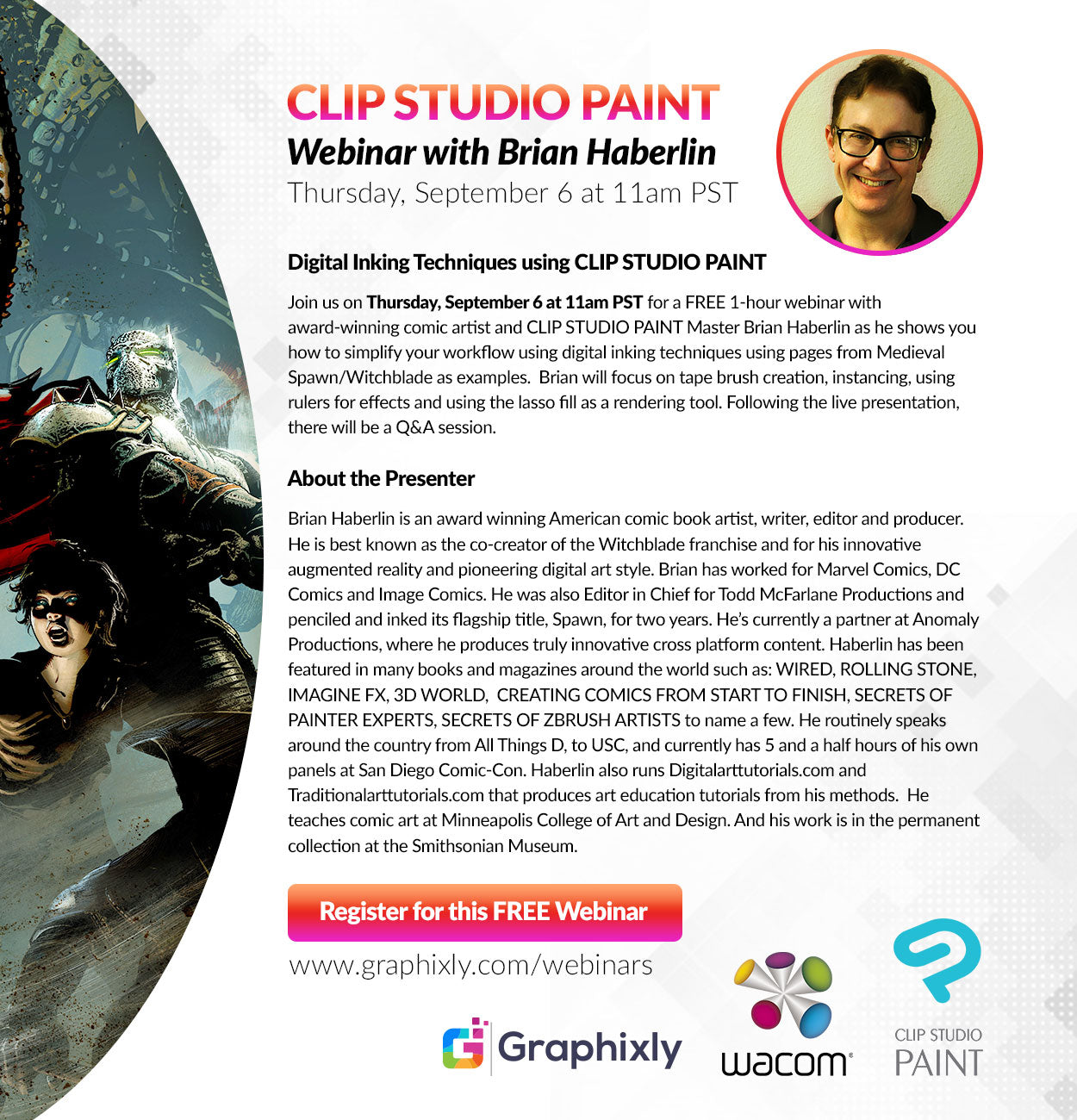 Webinar - Digital Inking Techniques using CLIP STUDIO PAINT with Brian Haberlin
Fahim Niaz @
WATCH THE WEBINAR RECORDING HERE


Description
Join us on Thursday, September 6 at 11am PST for a FREE 1-hour webinar with award-winning comic artist and CLIP STUDIO PAINT Master Brian Haberlin as he shows you how to simplify your workflow using digital inking techniques using pages from Medieval Spawn/Witchblade as examples. Brian will focus on tape brush creation, instancing, using rulers for effects and using the lasso fill as a rendering tool. Following the live presentation, there will be a Q&A session.
Click here to register for this FREE Webinar
About the Presenter
Brian Haberlin is an award winning American comic book artist, writer, editor and producer. He is best known as the co-creator of the Witchblade franchise and for his innovative augmented reality and pioneering digital art style. Brian has worked for Marvel Comics, DC Comics and Image Comics. He was also Editor in Chief for Todd McFarlane Productions and penciled and inked its flagship title, Spawn, for two years. He's currently a partner at Anomaly Productions, where he produces truly innovative cross platform content. Haberlin has been featured in many books and magazines around the world such as: WIRED, ROLLING STONE, IMAGINE FX, 3D WORLD,  CREATING COMICS FROM START TO FINISH, SECRETS OF PAINTER EXPERTS, SECRETS OF ZBRUSH ARTISTS to name a few. He routinely speaks around the country from All Things D, to USC, and currently has 5 and a half hours of his own panels at San Diego Comic-Con. Haberlin also runs Digitalarttutorials.com and Traditionalarttutorials.com that produces art education tutorials from his methods.  He teaches comic art at Minneapolis College of Art and Design. And his work is in the permanent collection at the Smithsonian Museum.
0 comments