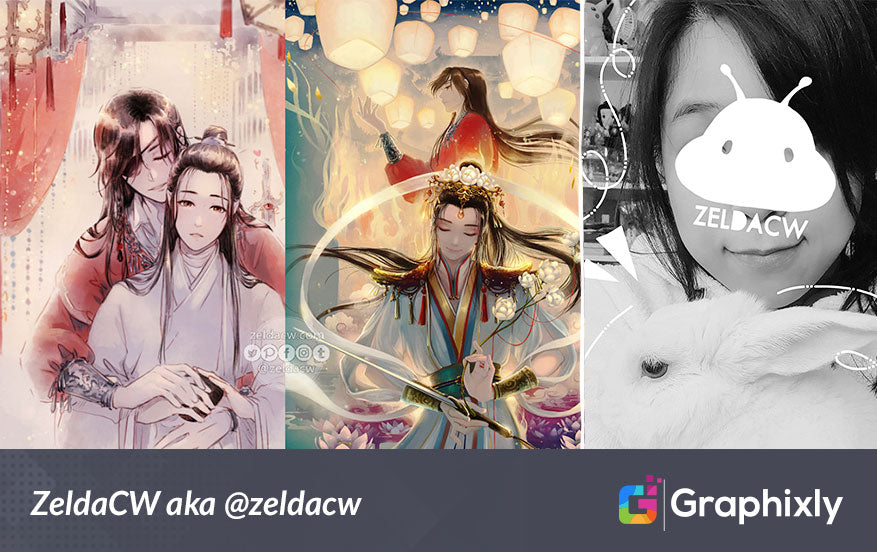 CSP Featured Artist: ZeldaCW
Contact Graphixly @
How did you become an artist?

I've always wanted to be a comic book artist as a kid and never considered a different career. I used to doodle everywhere, even behind peeled wallpaper, and started creating characters and stories when I was about ten. My classmates would ask me for the latest "issue" of my handmade comicbooks (drawn on homework paper). I remember they would read, react, and look forward to the next issue. It was fun and made me enjoy drawing even more. In 2007, I worked on a short comic of my interpretation of Hades and Persephone from the Greek mythology as a practice piece and posted it online without thinking much about it. To my surprise, it received lots of love and support which led me to self-publishing my works. I continued creating more stories and have nine books so far. Thanks to my highly supportive family, I was able to follow my childhood dream (。・ω・。)♡
Where do you get inspiration?

When I first started creating my own fantasy worlds and characters, I was influenced by CLAMP and Hayao Miyazaki, then I got motivated to practice paneling and improve my way of storytelling after reading NARUTO by Masashi Kishimoto. Aside from the works of my favorite artists, I also find inspiration in nature, history books, mythology, stories of real people, photography, music, and movies.
What's your hardware setup?
Currently a Wacom Cintiq 16 HD, ASUS 24 inch ProArt monitor, and a PC built by my brother. I thought I'd give Cintiq a try when my 15 year-old Wacom Intuos 3 (no screen drawing tablet) stopped working last year. After working with the Cintiq for about 5 months, although it is very nice, I must say I still prefer drawing on the old Intuos while looking straight at my monitor.
What do you like best about Clip Studio Paint?

I'm pretty sure every artist who likes CSP would say "I like everything" (LOL). I used to work in Adobe Photoshop and I switched to CSP instantly after seeing all the great comic making tools. Besides the awesome software itself, I also appreciate the fact that I can access lots of great tools and materials from CSP Assets. There are just too many good things but the best thing in my opinion is the fact that Clip Studio Paint keeps on improving itself with amazing updates....and all the updates are free. I mean...how's that even possible? CSP is just too powerful ヽ(≧Д≦)ノ
How long does it take you to make a single illustration?

It ranges from a 1~2 hours to 12~20 hours depending on the coloring style and level of rendering I feel like doing. It takes less time for me to do colors over line art than to paint in lineless style (example of different coloring styles below). It would also take me less time to finish an illustration if I get lucky and know exactly what I want to show on the canvas. Sometimes I'd spend a lot of time just to finalize a good pose or composition. OvO;
Would you consider Clip Studio Paint an industry tool?

Yes, of course. Is it not already an industry tool? OvO??? I mean, there are professional artists and animators using it for their jobs because CSP is packed with so many useful tools for creating comics, animation and illustration. Like I said, it's too powerful. =u=+
Would you like to promote some recent project?


My latest self-published graphic novel MYth: Inflammation is available in print at my Lulu bookshop. You can also read all my old works for free on Tapas. I'm currently in the process of making my first MYth art book. It's going to contain mostly brand new artworks. Here is a sneak peek of the characters section:
Where can we follow your work?

Here is a list (I'm most active on Twitter and I stream regularly on Twitch):

Twitter: twitter.com/zeldacw
Instagram: instagram.com/zeldacw/
Facebook: facebook.com/zeldacw
Twitch: twitch.tv/zeldacw
Youtube: youtube.com/zeldacw
*** ZeldaCW is doing a #Giveaway with us! Reach her

 post

 

on Instagram, follow her, follow @graphixly and leave a comment. Winners of Clip Studio Paint Pro will be announced on April 19, good luck! *** 
0 comments