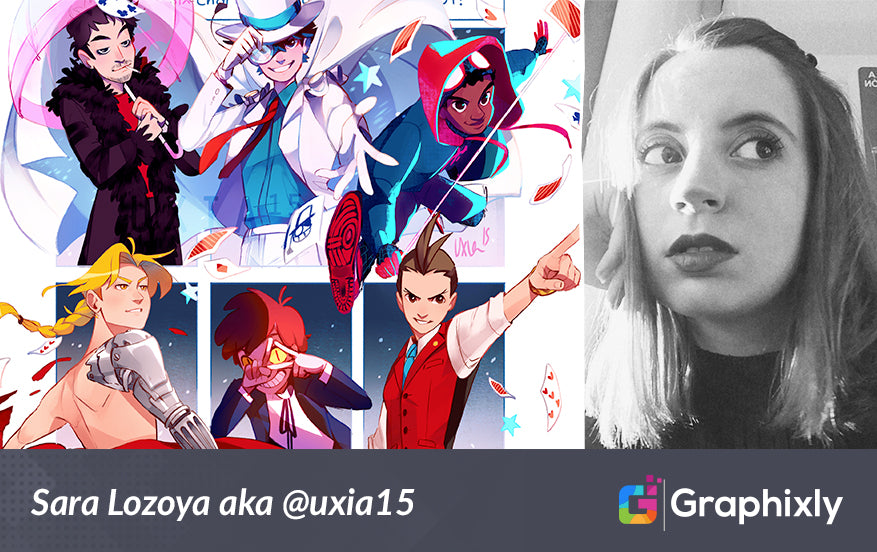 CSP Featured Artist: Sara Lozoya
Contact Graphixly @
How did you become an artist?

Ever since I can remember, I have always been drawing. At first, everyone around me thought it would be just a hobby, but deep down I always knew I wanted to work with anything related to art and, as I grew up, working in an animation studio became one of my biggest career dreams ever. What's more, I remember being little and watching 2D animated Disney movies on repeat and thinking to myself "Oh, I want to do that too" which I think has pushed me to never stop drawing and working on improving my art skills.

Although my passion for art has always been a part of me, I was never able to go to any Art school or study anything related to art which is why all my studies have always been science-oriented. Even when I thought I would be able to study something related to art at university in a degree called Design and Development of Videogames, the odds were not in my favor at all since the degree was centered on programming 24/7. Everything I know about art, I have learned it myself by being a hands-on learner, which ultimately has helped me to improve my artwork.

At the moment, I have two jobs: I balance work both as a book illustrator for Spanish publishers and as a background designer and color key artist at Sunshine Animation Studio.
Where do you get inspiration?

I get inspiration from almost anything really; it can vary from either a movie, an anime, a manga. to a random song that the Spotify algorithm recommends to me. Furthermore, I follow many talented artists in social media who constantly inspire me day-by-day with their amazing artwork.
What's your hardware setup?

I usually work with a Huion Kamvas GT220 tablet although, for recent illustration projects, I have been using an iPad Pro.
What do you like best about Clip Studio Paint?

What I love about Clip Studio Paint is that it is a tool that allows you to do everything you want and more, to the point that I cannot believe why it took me so long to discover it because I cannot picture myself drawing without it. Not only does it have multiple materials that facilitates the process of actually drawing, but since it is a program that is so intuitive, you do not need to have any previous knowledge to know what each tool is and how to use them properly.


On a side note, I would like to highlight one tool that has saved my life more times that I can count and that is the Perspective Ruler Tool. I think I have used this tool in almost every "recent" drawing because it is a life-savior when it comes to designing intricate background designs.
How long does it take you to make a single illustration?

It depends on how complex the illustration is and the amount of detail it possesses, nonetheless, I believe that the more I improve my art style, the more complex my illustrations get and the longer I take to finish them hahahaha.
If the illustrations are really complex with intricate perspectives and with a very detailed background, it would take me approximately about five days to a full week. I would say that planning the sketch is the hardest step for me since I always like to look for a great deal of references so that I can actually visualize the scene I would like to draw, which is why it usually takes me about two days. However, once I have everything visualized, the rest comes relatively easy. The next step would be line art which takes me no longer than a day and last but not least, I focus the rest of my time on my favorite step that is coloring and adding lights, shadows etc.

On the contrary, if the illustrations are simple, say a character without a background, it would take me about one day. Nevertheless, as I have previously stated, nowadays, it takes me more than that to be 100% satisfied with a finished drawing (although this rarely ever happens which is why I have about a million WIPs that will never see the light of any social media platform ahahaha).
Would you consider Clip Studio Paint an industry tool?

Of course! In the animation studio I work at, we have been incorporating it more and more in our projects, especially when it comes to background designs and since it is such an easy tool to use, I think it will be our only tool. In addition, personally, I have been using Clip Studio Paint in my illustration projects for some time now and it has become my main drawing tool.
Would you like to promote some recent project?

Luckily, this year I have had many opportunities to work on several projects with different editorials, however, the project that has a special place in my heart in 'Flashlight', which is a one-shot manga that I created from scratch and that has been published in the Spanish magazine "Planeta Manga". It tells the story of Jongsu, a young boy who loves music, but struggles a lot to dedicate his life to it. Meanwhile, his sister Minji would do anything she can to help her brother, but the odds are not on Jongsu's side, would he be able to live his dream or would he give up? You can find out for yourself in the seventh edition of "Planeta Manga"!
Where can we follow your work?

You can find my work in my socials, especially on Instagram @uxia15 and Twitter @uxialovegood
*** Sara is doing a #Giveaway with us! Reach her

 post

 

on Instagram, follow her, follow @graphixly and leave a comment. Winners of Clip Studio Paint Pro will be announced on June 8, good luck! *** 
0 comments