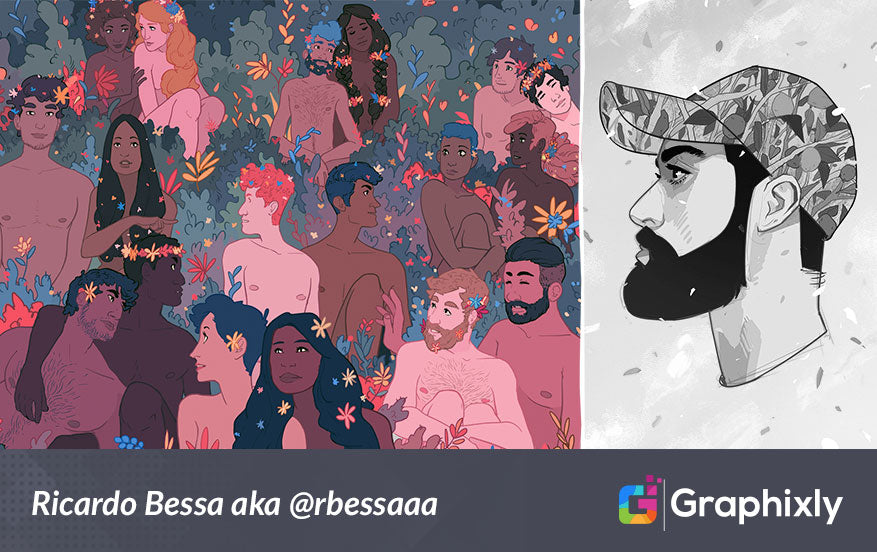 CSP Featured Artist: Ricardo Bessa
Contact Graphixly @
How did you become an artist?

I've always liked drawing and creating image from an early age, which I imagine is what you hear from most artists! Having spent my teenage years exploring digital work, I went on to study art in university, where I realized illustration sounded like the right path. After graduating, I just spent a long time trying to make self-initiated work, putting it on social media, and slowly everything seemed to grow from there!
Where do you get inspiration?

Usually, I would say from everywhere! From music, books, from the world around me, from taking walks and watching people, and from other interests like video games and queer art and D&D and fantasy. These days, like many others, I don't leave the house much, so looking at what other artists have done is a big inspiration. I also find myself drawing a lot from things I miss or want to do more of in the future.
What's your hardware setup?

I work on a 13" Wacom Cintiq and an Apple iMac. Nothing particularly fancy, but it get the job done!
What do you like best about Clip Studio Paint?

The pencil tool. The line quality is very close to what I want my digital lines to look like, and so far it's unmatched by all the other software and brushes I've tried. And the Close and Fill functionality has also been truly life-changing!
How long does it take you to make a single illustration?

It really depends on the complexity. I've found in the past few years that being efficient has really become a priority for me, and it's also really important to me to take breaks, for my physical and mental well-being. So while I could say that technically I have finished most of my recent illustrations in a 10-20 hours of focused work, the reality is that I really prefer to spread that out over a few days.
Would you consider Clip Studio Paint an industry tool?

Of course. To be honest I'm yet to explore its full functionality, as I use it as just one of several tools, but I can see it's got all the tools needed to draw and paint.
Where can we follow your work?

Twitter and Instagram, both @rbessaaa
*** Ricardo is doing a #Giveaway with us! Reach his

 post

 

on Instagram, follow him, follow @graphixly and leave a comment. Winners of Clip Studio Paint Pro will be announced on February 15, good luck! *** 
0 comments