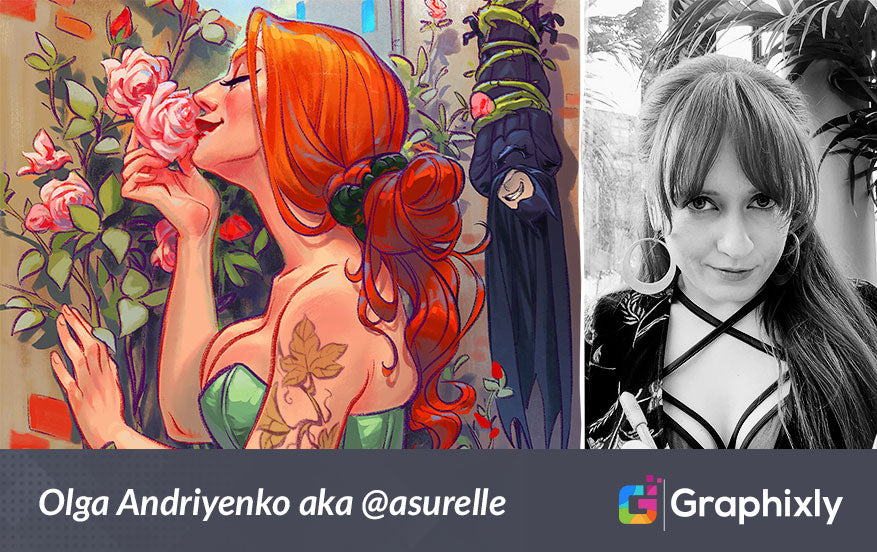 CSP Featured Artist: Olga Andriyenko
Contact Graphixly @
How did you become an artist?


I can't remember a time in my life where I have not been drawing. As a kid I came up with stories of adventurer princesses with swords, beautiful dresses and a million of trusty pets and wanted to draw them all. To be honest, not much changed since then, even 30 years later I still love to draw fierce girls and come up with their stories.

It was a little bit harder than that to make a career in art. I went through some badly paid jobs and internships, worked for several video game companies and now I am finally a happy freelance artist doing character design and storyboards for animated movies and some other cool projects.
Where do you get inspiration?


Inspiration is everywhere! I love studying the work of classic artists (like the Art Nouveau legend Alphonse Mucha or the Russian fairy tale illustrator Ivan Bilibin), but also contemporary artists on Instagram and Twitter. There is so much awesome art out there! I am lucky to count some really amazing artists to my friends and you should definitely chack out their work in our collective Instagram account @SundaySketchingCollective.
I also absolutely love movies (animated or not) and cinematography and get a lot of inspiration from them, games as well.
But I think most of the inspiration for my own characters and stories comes from real life and the funny, dramatic and emotional stories of me, my friends and strangers.
What's your hardware setup?


I do most of my work on my trusted Wacom Mobile Studio Pro 13. I like to work on the couch or on my bed, in summer I even draw outside on the balcony sometimes. Before Covid I was traveling regularly and always had my Mobile Studio with me. I also have a small iPad Pro, which I use more for sketches and drawing in coffee houses.... back when it was actually possible. I often send my artworks back and forth between the two devices and it's very helpful that Clip Studio Paint works on both.
What do you like best about Clip Studio Paint?


I think it is the software that allows you to draw the best lineart. It also does a great job of making the most annoying parts of creating art, like filling in local colors, faster and less tedious. The comic creation tools are the best. And I am constantly discovering new amazing features about it, it's impressive!
How long does it take you to make a single illustration?


It really depends. I am quite impatient and always try to find art styles that let me finish artworks quickly. For a black & white lineart illustration I usually need a couple of hours, but when I want to finish something with color and lighting it usually takes a couple of days. I have also noticed that it can be helpful to let an artwork rest and have a fresh look at it the next day before finishing. Usually I have some good ideas about it that I did not have the day before, or notice mistakes I want to fix.
Would you consider Clip Studio Paint an industry tool?


100%! It gives you all the tools needed to create finished illustrations and comics. I am currently getting to know the animation features and hope they are as amazing.
Would you like to promote some recent project?


I created some lessons for the book Character Design Fundamentals and I can recommend it to any artist looking to expand their character design knowledge: https://shop.3dtotal.com/books/fundamentals-of-character-design
Where can we follow your work?


Please follow me on Instagram or Twitter, which is both @asurelle, or support me on Patreon: https://www.patreon.com/asurocks
My website is https://asurocks.de and I am also on ArtStation: https://www.artstation.com/asurocks
*** Olga is doing a #Giveaway with us! Reach her

 post

 

on Instagram, follow her, follow @graphixly and leave a comment. Winners of Clip Studio Paint Pro will be announced on November 30, good luck! *** 
0 comments