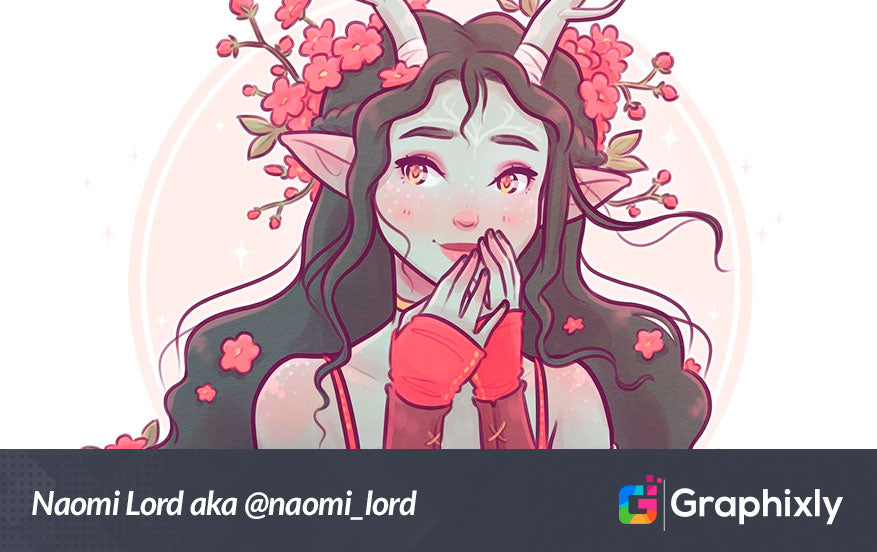 CSP Featured Artist: Naomi Lord
Contact Graphixly @
How did you become an artist?


It was almost an accident, I've always loved to draw but I had never considered that it was a potential career I could have for myself! I had just graduated studying Architecture at university, and after that all I had realized was that being an Architect was not for me. I was having a hard time not knowing what I was doing with my life and I started posting my art more often on social media, it started to get enough momentum to make me think I could actually start taking my art more seriously. I was planning on studying for an Illustration Masters Degree when my Instagram took off enough that I could start making an income from commissions and an online shop! And now here I am!
Where do you get inspiration?


I get my inspiration from all over the place. I grew up loving manga, anime and cartoons, which I think really shaped my art style into what it is now. I'm a big fan of fantasy, be that books, video games, or films/TV (Lord of The Rings and all of Terry Patchetts books to name a couple). Also a huge inspiration for me is seeing such a wide variety of artists on social media, sharing their creations, I truly don't think I'd have been able to make it a career without seeing so many others thriving online.
What's your hardware setup?


I've always had a Wacom and used Clip Studio since starting up, I'm currently using a Wacom Mobile Studio pro which is handy because it's portable!
What do you like best about Clip Studio Paint?


It's been such a breeze using Clip Studio Paint all these years, I tried a few programs when I was learning and as soon as I found Clip Studio Paint I never looked back. It's great to have access to tutorials and free assets like brushes, I'm always finding extra features to use! I'm not sure I could pick one particular thing I like the most!
How long does it take you to make a single illustration?


I don't really have one answer for that, it really depends on what I'm drawing, it can vary from an hour to a day usually, it's not an exact science that's for sure haha!
Would you consider Clip Studio Paint an industry tool?


100% yes, it's the key program I use for my illustration and I'd recommend it to anyone looking to do something similar. I have other programs I use that compliment my workflow but I'd never be without Clip Studio Paint.
Where can we follow your work?


Instagram: www.instagram.com/naomi_lord
Twitter: www.twitter.com/naomilordart
Facebook: www.facebook.com/NaomiLordArt
Tiktok: www.tiktok.com/@naomilordart
Etsy: www.naomilordart.etsy.com
*** Naomi is doing a #Giveaway with us! Reach her 

post

 

on Instagram, follow her, @graphixly and leave a comment. Winners of Clip Studio Paint Pro will be announced on January 26, good luck! *** 
1 comments
I am in love with all of your drawings! I've been creating some of my own, they are kinda like your style. When I was 3 I got kicked in the head by a cow. It left me with permanate damage and people make fun of me. I'm very smart (well thats what my fam says) and I'm good a drawing. I want to learn how to draw like you. I've learned to block them all out by drawing! You give me so much inspiration and I love it! Thank you for all you do!
Kallie @ 2023-05-19 14:01:17 -0700