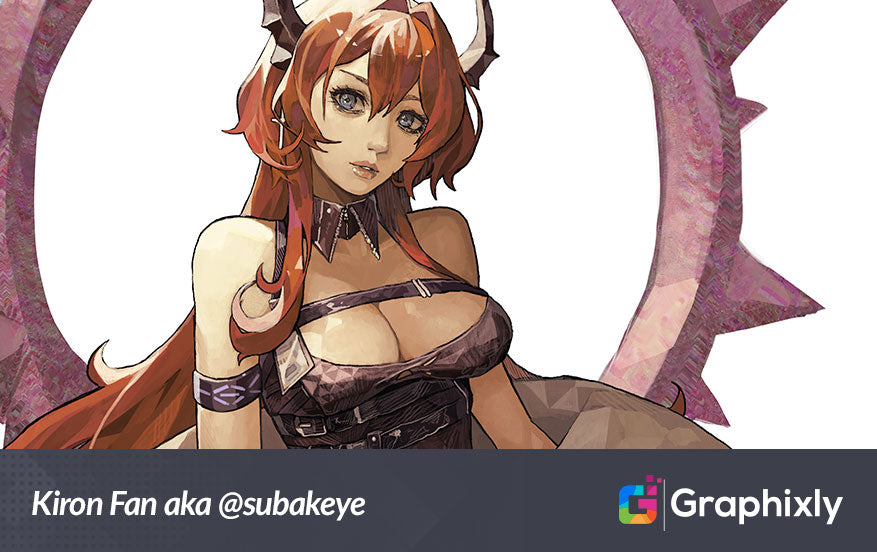 CSP Featured Artist: Kiron Fan
Contact Graphixly @
How did you become an artist?
I think everyone is an artist inside as long as they can appreciate some form of art. Certain people who we consider "artists" are just people who found a way to express their appreciation. In my case, I've always drawn pictures in an attempt to show my view of the things I like and to express myself. In order to refine this view, and pushed by a near obsession to create, I continue to study art. To me, drawing should be enjoyable, genuine, and challenge me to push myself. Drawing is not a means to an end; it is the process itself that I enjoy alongside the finished piece. I did not learn to draw in order to become an artist, I am an artist because I enjoy the act of drawing.
Where do you get inspiration?
Anything that I find exciting like games, anime, music, and other art eventually makes its way into my art, whether literally (in the case of fan art) or in the sense that art style is the result of your aesthetic gained from life experience (for example, I often find myself drawing wild, expressive lines while listening to metal music).
When I work, I keep references on hand in order to keep details accurate and on model, but I also have the works of artists I admire pulled up to serve as a goal post for the level I feel I should be drawing at. When doing this, it's important not to get discouraged by comparing myself to others, but setting my sights high pushes me to keep at it!
What's your hardware setup?
I draw on a laptop with a Wacom Cintiq 13HD attached. I've had the same setup for years and find it really reliable; while the tablet's screen isn't as large as more recent models, it sits comfortably on my desk and is reasonably portable. Usually I use my phone as an auxiliary screen to look at references.
What do you like best about Clip Studio Paint?
Unlike competing 2D graphics software, I really get the feeling that Clip Studio Paint was built from the ground up with artists in mind. There is just the right amount of tools to draw or paint in a variety of ways without feeling overwhelmed. There are advanced features like automatic coloring and 3D models, and I didn't need an hour-long tutorial to learn them.
How long does it take you to make a single illustration?
It depends on the work. A drawing could technically have taken eight hours cumulatively to complete, while also parsing those eight hours across multiple days. My brain gets really tired thinking about the same drawing for too long, so during a day-long drawing session I frequently split the time between multiple drawings in order to simultaneously maintain focus and productivity. Plus, I'm a bit impatient and just want things to be finished!
How has Clip Studio Paint improved your workflow?
Clip Studio Paint has a great magic wand selection tool and fill bucket, which allows me to quickly get through flat colors and masks without having to do much monotonous freehand coloring.
Would you like to promote some recent project?
My print shop can be accessed here! https://www.inprnt.com/gallery/kiron/
Where can we follow your work?
You can find me on both Instagram and Twitter with the handle @subakeye !
I also maintain a portfolio semi regularly on Artstation: https://www.artstation.com/kiron-arts
*** Kiron is doing a #Giveaway with us! Reach his 

post

 

on Instagram, follow him, @graphixly and leave a comment. Winners of Clip Studio Paint Pro will be announced on September 26, good luck! *** 
2 comments
asai @ 2023-07-20 14:15:17 -0700
I really love your work. Not a great fan of bright colour so appreciate your beautiful tonal values with soft colour and so much more :)
James Horsler @ 2022-09-29 06:29:02 -0700