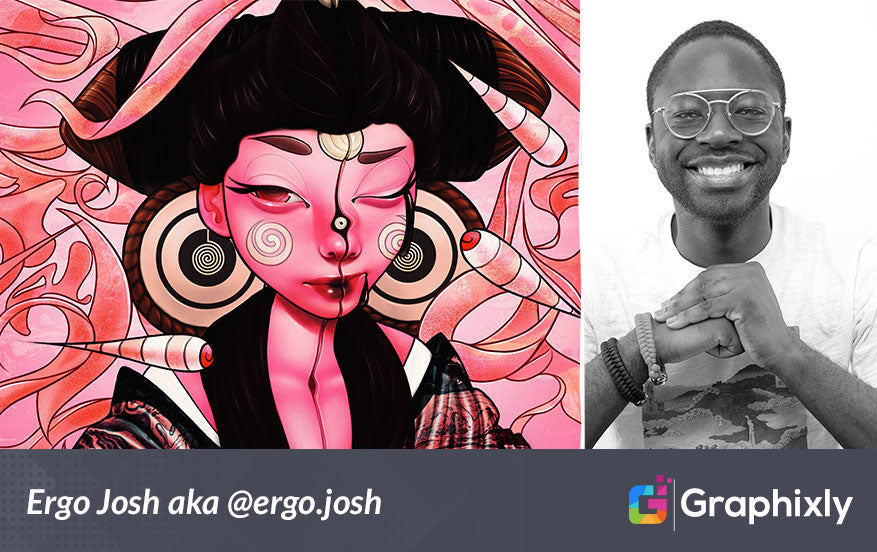 CSP Featured Artist: Ergo Josh
Contact Graphixly @
How did you become an artist?


This made me smile to read because its always something I still feel hesitant to call myself! I have always loved arts and crafts and got really serious when my mother suggested that I draw real people instead of 'cartoon' (manga) characters. I spent a lot of time doing realistic pencil portraits until college, where I dabbled with my first digital tablet in 2013/14. I spent a lot less time doing artwork until I decided to develop my skills in my free time while working as a design professional at an architecture firm after college.
Where do you get inspiration?

I find that I am very driven and focused when it comes to what Inspires me. I find artists that I really like and consciously think about what It is exactly that I love about their work. To name a few these include: James Jean (his fantasy, smooth, calculated style) Glenn Keane (his character aesthetic and flowy sense of movement in every drawing) and basically any League of Legends splash artist hahaha. I love the way they capture the beauty and movement of the human forms but also add a fun stylized twist to them.
What's your hardware setup?


Currently I am rocking 2 setups, the first is a custom built pc (RTX 2080 Ti / Intel 9900k / 64GB Ram) with my beloved Wacom Cintiq Pro 32". This is for taking my final artwork to print quality and when I want to go big with my sketching. Otherwise, this is where I do all of my video editing, video calls, admin, graphic design, etc.

My second setup is my 2020 Ipad pro 12.9" Along with my Razer Blade Pro laptop. I do most of my livestreams and YouTube videos from here!
For my film/camera gear I use an elgato camlink, A Sony A7iii + a6400 and a Panasonic GH5s. For audio its usually my sure sm7b or the Sennheiser mh416.
What do you like best about Clip Studio Paint?


What I love most about Clip Studio is how intuitive and straight forward it is. Its so easy to pick up and get started that you find yourself not wanting to waste time learning anything else (my experience). The simplicity and effectiveness of the brushes is great and its INTENDED for digital artists like me.
How long does it take you to make a single illustration?


It can take me anywhere from 3-8 hours for a sketch, but up to 60 hours for a full painting! This is by no means normal and I hope to speed things up. However, I find that my qualitative eye is way better than my skill level at the moment. I always say that its all about the final result, I think the process (not necessarily the journey) is way too glorified for any individual painting. The process can be just as unique to the artist as the artwork itself.
Would you consider Clip Studio Paint an industry tool?


Although I have not worked in an art focused creative industry, I absolutely would say so! I've had the pleasure of working in the Architecture industry so I know that speed, compatibility, and efficiency are the most important aspects of a tool. Clip Studio Paint excels at all of these and I can easily see it performing well in a studio environment with a tight pipeline, as I am sure it does for many already.
Where can we follow your work?


The best place to follow my work is on Instagram @ergo.josh and on Twitch @ergojosh!

If you want to check out my Youtube content about pretty much everything digital art, you can find me there as ergo.josh as well!

Very soon, you can also simply check out my website ergojosh.com as a hub for everything.
You can also watch the Webinar that Ergo Josh did with us a while ago!
*** Josh is doing a #Giveaway with us! Reach his

 post

 

on Instagram, follow him, follow @graphixly and leave a comment. Winners of Clip Studio Paint Pro will be announced on July 20, good luck! ***
1 comments
I really wanna win I love ergo joshes art
tha.tnobody @ 2020-07-15 11:13:00 -0700