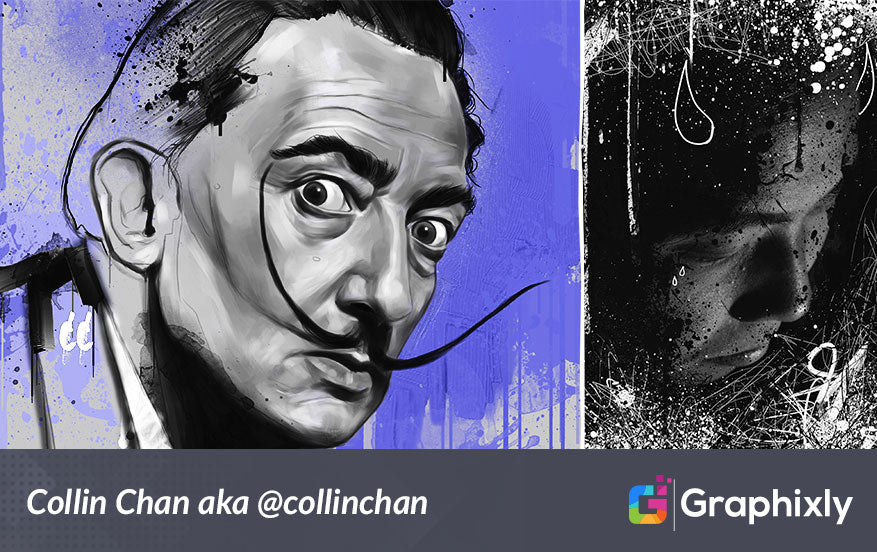 CSP Featured Artist: Collin Chan
Contact Graphixly @
How did you become an artist?

Just like most kids; I grew up doing "art" from my kindergarten years up until high school. I never really excelled in it, matter of fact I was one of the weakest artists in class. But I certainly enjoyed creating art. I did not grow up around artists or have any early teachings, as my family were not artistic people.

My major turning point was having a family friend bring me to his work place, which was an animation studio. I was excited to see adults having action figures and nerf guns on their office desk. Through seeing people doing this as a living it planted a seed in my mind that I wanted to pursue a career in the arts. Now during my journey as an artist I remember my 1st year in College and it was life drawing class. I remember my life drawing professor telling me to put my work up and he only chose the best ones. I was surprised and shocked he selected me. But little did I know he used me as an example to tell the other students that "Art is something you either got or don't got, and Collin Chan you DON'T GOT IT!" I remember leaving class in shambles, hurt and discouraged when I went home that day I remember asking my school mate "do I really suck??" He responded "not really…you just don't practice enough…" so long story short I did quit art for about 2 years.

Until I found a mentor in a college friend of mine. He showed me how my "horrible" art could be improved by learning fundamental techniques in drawing and painting. The lessons he taught me turned into years of practice, which then turned into over ten thousand hours as I am still perfecting my practice. So to all the people reading this know that art is a skill in which anyone can do as long as they put in the hours. To that professor I want to thank you because without that darkness I wouldn't see the light!
Where do you get inspiration?

By realizing that everything has a story and anything can be a story. With all that's happening in the world with the pandemic, we all have a sense that life is short and we should appreciate the little things. I have always lived life with that idea in mind. My inspiration is life; I wake up and realize that tomorrow is never promised and I should take notice of the small things that largely inspire me to create, like a ray of sunlight shining through my window blinds or my enjoyment of casual conversations with people around me. It's these small moments that help me to create, by forcing me to step back and look at the larger picture.
What's your hardware setup?

I recently built my PC with my sister and inside my computer it goes AMD Ryzen 9 3900/ 32gb DDR 4/RTX 2060 KO and my drawing weapon of choice is the biggest, baddest industry standard Wacom Cintiq Pro 32. I also use the lovely Wacom Mobile Studio Pro 16 specs Intel Core i7/Nvidia Quadro P1000 4gb GDDR5/16gb DDR I use this when I need to be mobile and traveling.
What do you like best about Clip Studio Paint?

I only recently started using CSP but from my initial perspective, I really enjoy the simple layout where you're not overwhelmed with so many options. But also being able to see how they have features like the perspective ruler or even having the ability to animated within this application just shows me the potential and future of CSP.

How long does it take you to make a single illustration?

This is a very tough question because having experience as a storyboard artist in a tv commercial industry, the dead lines were insane. So it really depends on the project, some pieces can take me 10-15mins, or hours, or even weeks. But what I can say is I never missed a deadline!
Would you consider Clip Studio Paint an industry tool?

I believe so, I can see CSP being industry standards in the manga or comic book world!
Would you like to promote some recent project?

Right now I have the huge privilege and honor of being a Wacom influencer. Wacom has been keeping me busy with webinars, commissions, video tutorials, and some top-secret projects. The folks at Wacom have become my family and have made me feel very valued and respected. But also I have an upcoming Graphixly webinar showing people how to level up!!
Click here to register for this FREE Webinar
Where can we follow your work?

You can find me live streaming on Twitch https://www.twitch.tv/collinchan or find my videos/short films on Youtube https://www.youtube.com/collinchan and my drawing/painting/photography on Instagram https://www.instagram.com/collinchan/
0 comments