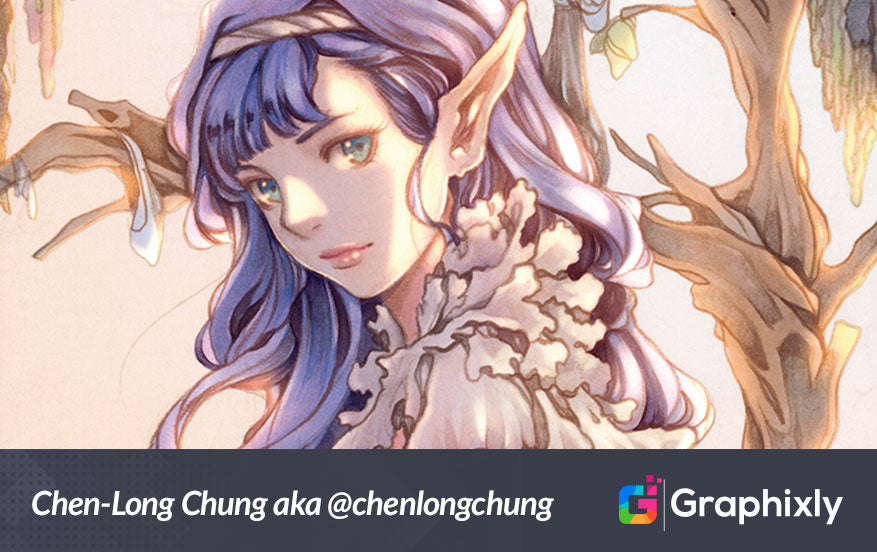 CSP Featured Artist: Chen-Long Chung
Contact Graphixly @
How did you become an artist?

Honestly it was by accident. When I was in college I actually aspired to become a graphic designer but I noticed that it wasn't as fulfilling as I thought it would be. I talked about this matter to close friends and family and they encouraged me to pursue something else instead of sticking to a safe choice. By chance I was given an opportunity to exhibit my art at conventions and people slowly noticed me. I also started posting my artwork on social media which also helped me out tremendously! Due to the exposure I was given so many opportunities to thrive and grow and now, here I am!
Where do you get inspiration?

I'm really inspired by music and video games. Currently I'm listening to mostly KPOP and video game soundtracks, which really puts me in a good mood to be creative. I also love look at beautiful art made by my fellow artists such as Reyhan's Artwork, Laovaan, DLAS and Djamila Knopf!
What's your hardware setup?

Currently I do most of my work on my iPad Pro with Clip Studio Paint. It's quite simple and easy to go. No matter where I am, I can always work and make amazing art which is truly a blessing for me!
What do you like best about Clip Studio Paint?

Everything? Everything! From the stabilizer, the custom brushes, having access to so many free assets and tutorials to the vector layers, all these aspects help me out tremendously to grow as an artist and also make the drawing process so much easier and quicker.
How long does it take you to make a single illustration?

I really have no universal answer to that. It could range from 10 minutes to 10 hours. But from experience I can say that I'm more on the slower side :P.
Would you consider Clip Studio Paint an industry tool?

For me it truly is. I have two tools which I always have my hands on. It's Clip Studio Paint and Adobe Photoshop. These two are the heavy lifters in my current workflow and I couldn't live without them. The only exception is if I work with traditional media such as watercolor or alcohol markers but that's a whole other topic.
Where can we follow your work?

You can follow my work on Instagram and on TikTok @chenlongchung. Also you can check out my stuff at www.chenlongchung.com where you can also get your hands on my art prints and stickers! In any case, I'm really thankful for your time and appreciation and I hope to see guys on Instagram, TikTok or maybe at a local convention! Have a great day!
*** Chen is doing a #Giveaway with us! Reach his 

post

 

on Instagram, follow him, @graphixly and leave a comment. Winners of Clip Studio Paint Pro will be announced on December 21, good luck! *** 
0 comments