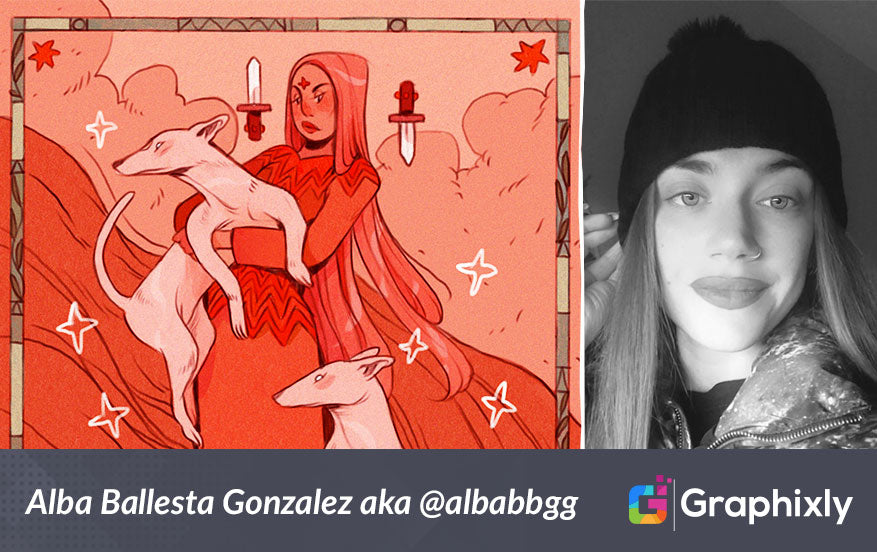 CSP Featured Artist: Alba Ballesta Gonzalez
Contact Graphixly @
How did you become an artist? 


As the most of artists I've been drawing since I was a little kid, I remember it was the thing I always loved the most! But I never thought I could become an artist or make a career out of it. I didn't take art in high school, I was going to major in philosophy but then, I don't know why, just a couple of weeks before the university entrance test I changed my mind, I thought, why not? It's what I love the most… so I made the fine arts exam! I passed the test with a good grade (miraculously, because I never took classes before) and I started studying fine arts. The degree was an absolute failure (I even changed universities but almost the same) so I had to learn let's say the 75% on my own (you know, the prize is worth the price). Once I got out, I started working in an animation studio for Nickelodeon for a few months, then I co-founded Weba! Studio an animation studio which has released this year a 2D animation short film and an indie videogame (all of this while been a freelancer because we did it without funding). So, for the past two years to this day I've been a freelancer and collaborating with art brands while developing at the same time my own projects! I have worked for videogames, animation, editorials, tabletop games, card games (like Magic the Gathering) and now I'm developing my own Tarot deck! I'm still working every day in order to improve and get better because art is truly what I enjoy the most! ( ◔ ౪◔)⊃━☆゚.*・


Where do you get inspiration?


I have a lot of sources of inspiration, I am looking for them all the time, everywhere I go! You can find awesome things in the most common and unexpected places. However, my major influences are: 90's anime of course, because I grew up watching it, Ghibli movies, and European comic artists, specially Moebius (he is my favorite of all times). I'm also very influenced by cinema, and ancient and classic cultures art like Greek, Egyptian, Mesopotamian…and so on.


What's your hardware setup?


I have a Cintiq 13HD (I'm thinking on upgrading soon because I've had the same for a lot of years now haha) on an Asus PC (which is also very old it has 7 years, omg, I really need an actualization (╯°▽°)╯ ┻━┻), and I also have an iPad Pro 9.7 which I use more when I do mixed media: for example, traditional line art and digital color.


What do you like best about Clip Studio Paint?


Honestly, I've been using Clip Studio Paint since I first started drawing digitally (Manga Studio in those times, I'm sure a lot of you will remember), once I tested it I knew it was the best for me at least, and I think it is the most intuitive and convenient software for drawing on PC or MAC. I love all the amazing tools it has like for example "Stabilization" and that if you press click+alt you can make a straight line while maintaining the texture! (I'm so bad at straight lines so it's very helpful for me haha.) And I also find outstanding the comic tools, it's just a super complete software, now you can even animate!


How long does it take you to make a single illustration?


Of course, it depends on the illustration (sometimes there are things more difficult to draw) but a full entirely digital illustration with an environment and maybe animals and effects I'd say around 3h (because they don't have very much rendering) However a very flat simple full illustration around and 1h. I'm very fast I know; I don't have patience haha. ( ´థ౪థ)


Would you consider Clip Studio Paint an industry tool?


Of course, I think Clip Studio is very underrated right now for the lot of possibilities it offers, and I'm being totally honest with this, is not because this interview I've been using the software since I first started!


Would you like to promote some recent project? 


Yes , I'm publishing this year along Liminal 11 my own Tarot deck, (its going to have a very gorgeous special edition with a lot of goodies and an original card signed by me). I'm also developing a new ambitious project which features my OC "Grog the Frog" (I'm sure a few of you knows him already ಠ⌣ಠ )


Where can we follow your work?


My main social media is Instagram, but I also have a YouTube channel (where I'm going to upload soon a Clip Studio Paint tutorial), Behance, Artstation and Twitter! (♡´౪`♡)


https://www.instagram.com/albabbgg/
https://www.youtube.com/AlbaBG
https://www.artstation.com/albabg
https://www.behance.net/albabg
https://twitter.com/albabbgg
*** Alba is doing a #Giveaway with us! Reach her

 post

 

on Instagram, follow her, follow @graphixly and leave a comment. Winners of Clip Studio Paint Pro will be announced on July 13, good luck! ***
0 comments