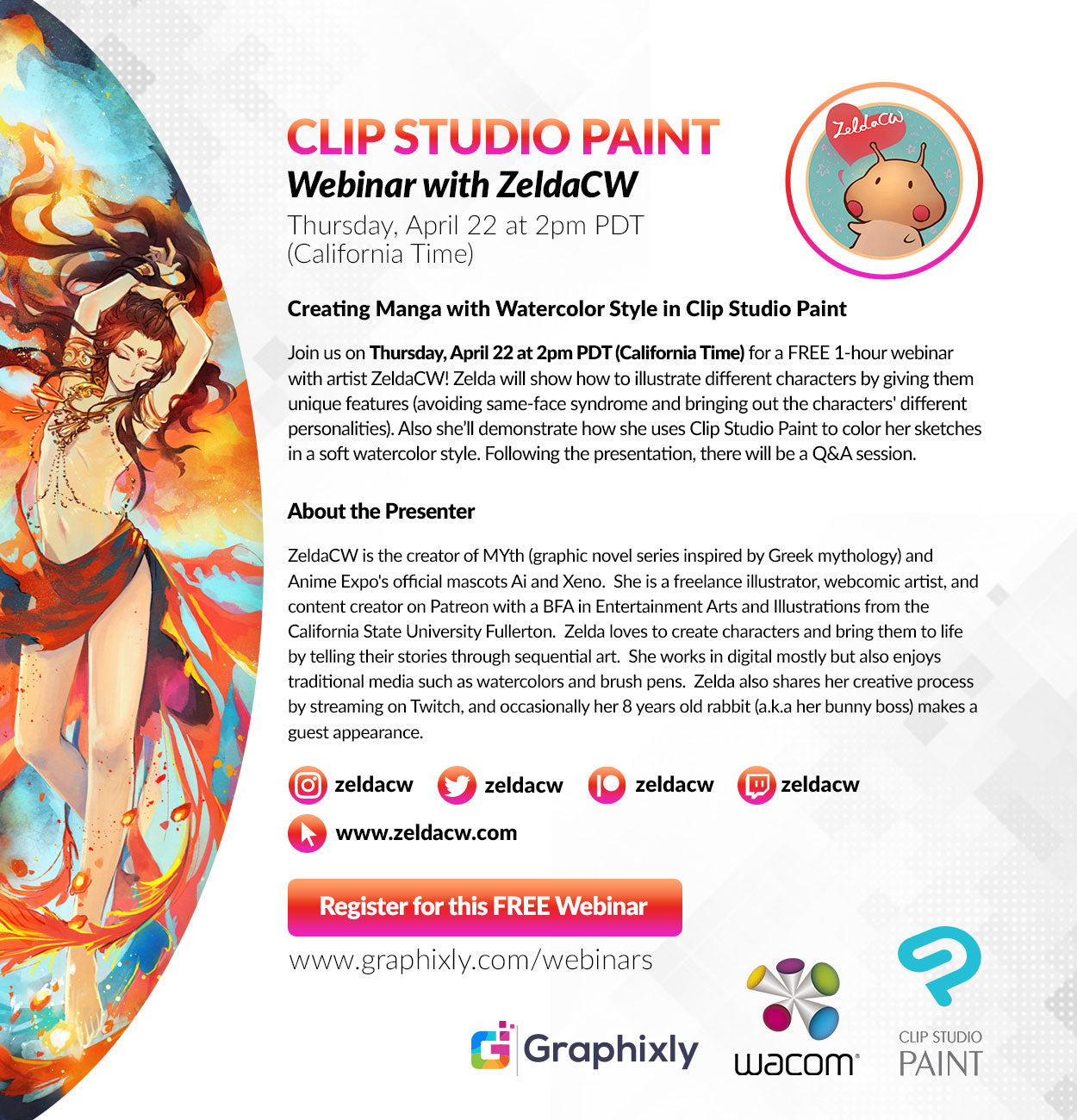 Creating Manga with Watercolor Style in Clip Studio Paint with ZeldaCW
Contact Graphixly @
Please register for Webinar - Creating Manga with Watercolor Style in Clip Studio Paint with ZeldaCW:
Click here to register for this FREE Webinar
Description
Join us on Thursday, April 22 at 2pm PDT (California Time) for a FREE 1-hour webinar with artist ZeldaCW! Zelda will show how to illustrate different characters by giving them unique features (avoiding same-face syndrome and bringing out the characters' different personalities). Also she'll demonstrate how she uses Clip Studio Paint to color her sketches in a soft watercolor style. Following the presentation, there will be a Q&A session.
Click here to register for this FREE Webinar
About the presenter


ZeldaCW is the creator of MYth (graphic novel series inspired by Greek mythology) and Anime Expo's official mascots Ai and Xeno.  She is a freelance illustrator, webcomic artist, and content creator on Patreon with a BFA in Entertainment Arts and Illustrations from the California State University Fullerton.  Zelda loves to create characters and bring them to life by telling their stories through sequential art.  She works in digital mostly but also enjoys traditional media such as watercolors and brush pens.  Zelda also shares her creative process by streaming on Twitch, and occasionally her 8 years old rabbit (a.k.a her bunny boss) makes a guest appearance.
Website: zeldacw.com
Twitter: zeldacw
Instagram: zeldacw
Twitch: zeldacw
Patreon: zeldacw
0 comments