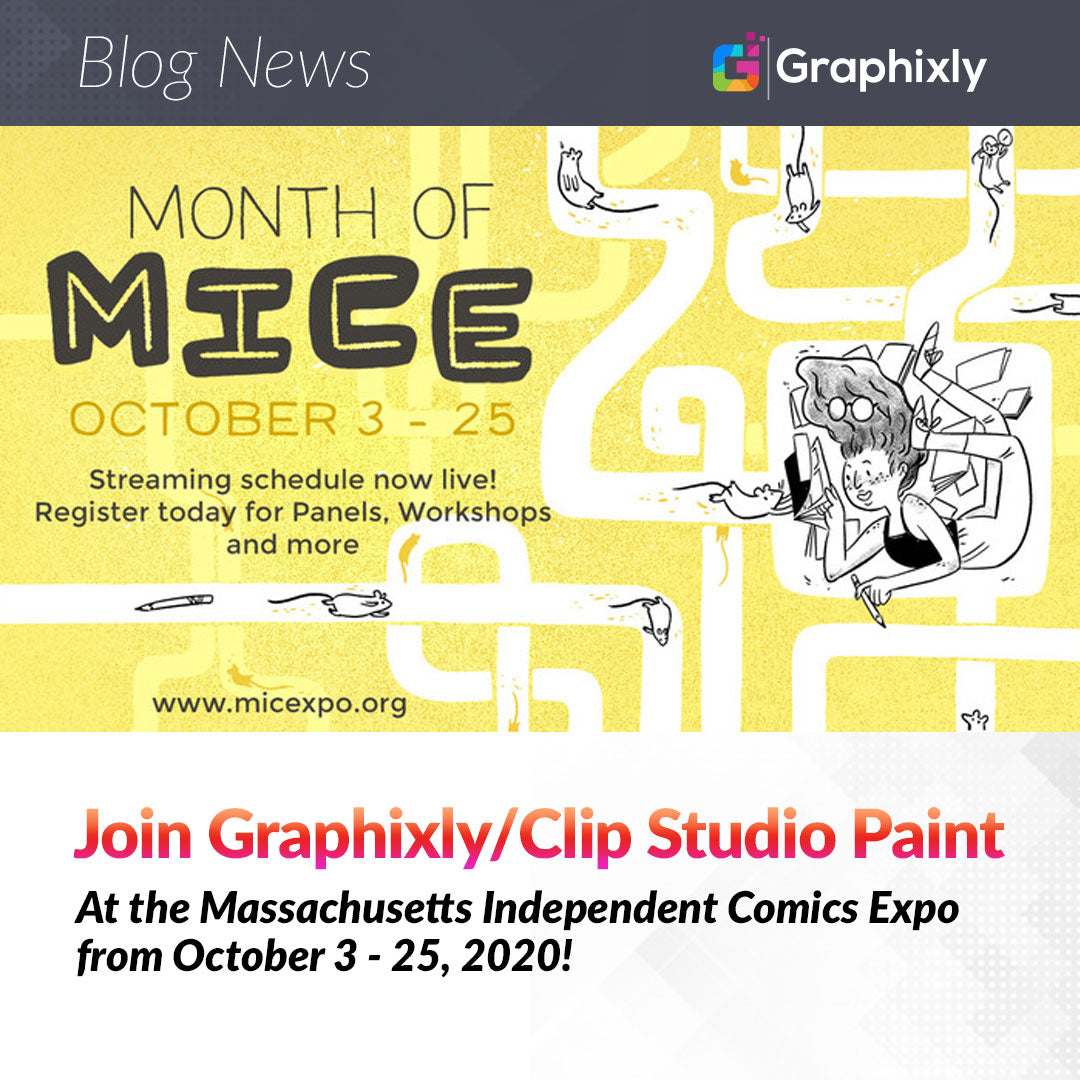 Clip Studio Paint Event - MICE Expo
Contact Graphixly @
Join Graphixly/Clip Studio Paint at the Massachusetts Independent Comics Expo from October 3 - 25, 2020!


Established in 2010, MICE is a showcase space for artists and writers in the greater-Boston area who work in the comics field. The event is produced by the Boston Comic Arts Foundation and hosted by the Lesley University College of Art and Design. MICE focuses on the art of making comics instead of commerce and merchandise like traditional comic shows. The event runs a number of workshops for children and adults, panel discussions on the craft of comics, and connects local creators with a local audience.


This year, MICE will take place as a virtual festival. During the month of October, multiple live online programs will be hosted, including panels, guest interviews, drawing games, and cartooning workshops. MICE is for anyone who wants to discover new comics, learn about comics as a medium, or is interested in making their own comics. They welcome participants of all ages and skill levels for most of their workshops.


Graphixly, the US partner for Clip Studio Paint, is a sponsor for MICE 2020 and will be hosting two panels at the virtual event.


"Clip Studio Paint Demo: Drawing Digital Comics" will be hosted on October 11, 2020 from 7-8 p.m. EDT. This webinar is for all ages, but it is recommended that viewers be age 12 or older. This demo will show tons of tips and tricks for translating traditional techniques into the digital environment. An experienced comics professional will present an in-depth demonstration of Clip Studio Paint, including turning thumbnails and roughs into penciled artwork, digital inking, and using Clip Studio's powerful perspective rulers for background artwork.


"Clip Studio Paint II" will take place on Sunday, October 18, 2020 from 7-8 p.m. EDT. This demonstration will concentrate on coloring and finishing your comics using Clip Studio Paint. Viewers will learn how to flat a comic or illustration, how to work with layers and masks, create patterns, textures, and other effects. Preparing your comic for print will also be discussed. This workshop is also suggested for ages 12 and older.


Both of the Graphixly/Clip Studio Paint sponsored workshops will be presented by Dirk Tiede. After studying commercial art and multimedia design, Dirk began his comic Paradigm Shift in his free time in 1999 as an online experiment. He went on to publish six books in the series, the most recent one through Kickstarter. His work has been featured in numerous digital art books, webcomics, and how-to books about comic creation. His books also were featured as a cameo in season one of NBC's Heroes. Dirk lives in the Boston area and works as a professional artist.


Registration for the Clip Studio Paint workshops for MICE can be done by clicking the "Register Now" links on each of the workshop listings. To register for the October 11 workshop, visit https://www.micexpo.org/2020/clip-studio-paint-i/

To register for the October 18 workshop, visit https://www.micexpo.org/2020/clip-studio-paint-ii/
0 comments