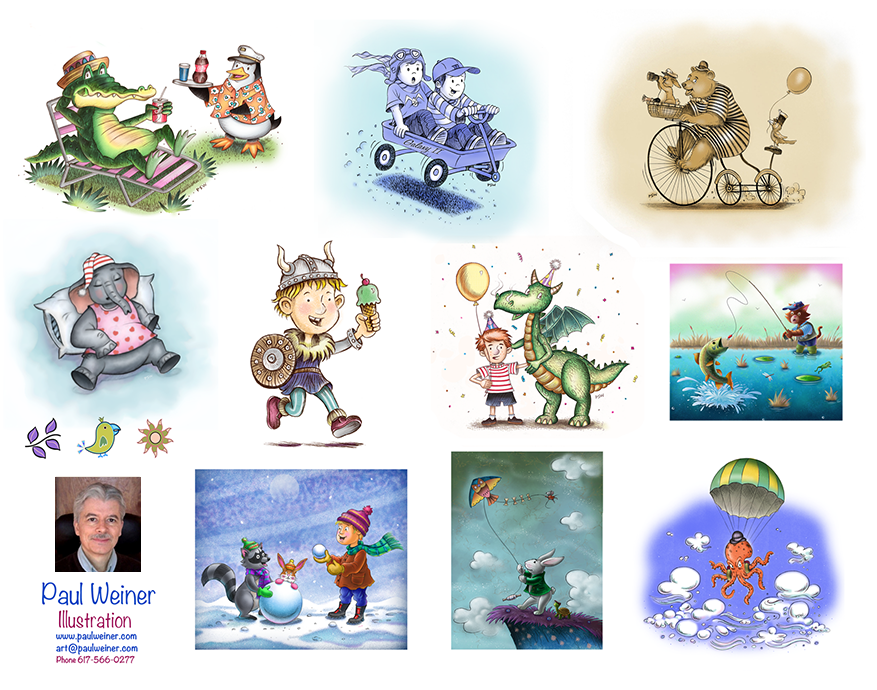 Clip Studio Paint Comic Artist Paul Weiner
Contact Graphixly @
Paul Weiner is a freelance illustrator who currently lives in the historic section of Quincy, MA. Sketching and drawing is his passion since he was just a little guy. Paul plays guitar and harmonica grooving to the blues.
"I love animation films especially anything from Pixar and Disney. The use of color from these films has influenced my color work.
My Spanish upbringing also influenced my creativity, especially my Mom's deserts. I enjoy making brownies with chocolate frosting and decorative Mexican icons. No salsa, please.
When I am not drawing, you will find me writing. I want to create a children's book which is one of my interests. I am always visiting the Boston Library children's section for inspiration. So many fun books to read".
After graduating from Massachusetts College of Art, Paul started freelancing as a designer and gradually was offered more illustration commissions. He has worked for design studios, magazines, and children's book publishers. Paul has been a digital instructor at Montserrat College of Art and Wentworth Institute of Technology.
"I enjoy relaxing playing my guitar and harmonica with the Harmony Gritz band. I have such a great time, and it's excellent therapy".
I like Clip Studio Paint because unlike Adobe Photoshop I don't have to pay a monthly subscription fee that Adobe charges. Clip Studio Paint PRO charges a modest fee of $49.99 for the whole application. 
The program is faster, stable, and I don't have any crashes with the program. I enjoy the number of tools included and it make's my painting experience intuitive and smoother.
Clip Studio can rotate the canvas and work on difficult angles. Photoshop has the same feature but, I work mostly in Clip Studio and no reason to switch to Photoshop.
I like the ability to customize brushes with Clip Studio. Photoshop brushes don't have the natural flow of pigment that brushes should have. Photoshop can make textured brushes, but the application requires working outside of the application. I need to scan textures and bring them into Photoshop and customized my brushes. Clip Studio's customization offers a variety of ways to create and alter my brushes and bring my paintings to life.
The next thing I like is customizing keyboard shortcuts. This is similar to Photoshop. But, I find it easier with Clip Studio Paint. I am able to paint, and then press a command key to erase an area and return to the previous paint tool I was using.
Another feature that's useful with Clip Studio is the ability to create little macros (Actions in Clip Studio Paint) to speed up tasks and same time. For example, let's say I want to create a fixed-sized layer to bring in my scanned image. Then, I  create another layer to draw or color on it. You can create a macro to perform all these steps at once saving me time.
These are just a few features I like with Clip Studio Paint. There are many more features that I haven't mentioned. I encourage any serious digital artist to pick up this program and discover how you can work faster and easier.
I am currently working on two iMacs using the latest Wacom Intuos 5.    
Follow Paul's artworks at
https://www.paulweiner.com
https://www.facebook.com/paul.weiner1
https://www.instagram.com/pweiner1/
https://twitter.com/PSWCreative
https://www.linkedin.com/in/weiner1/
0 comments