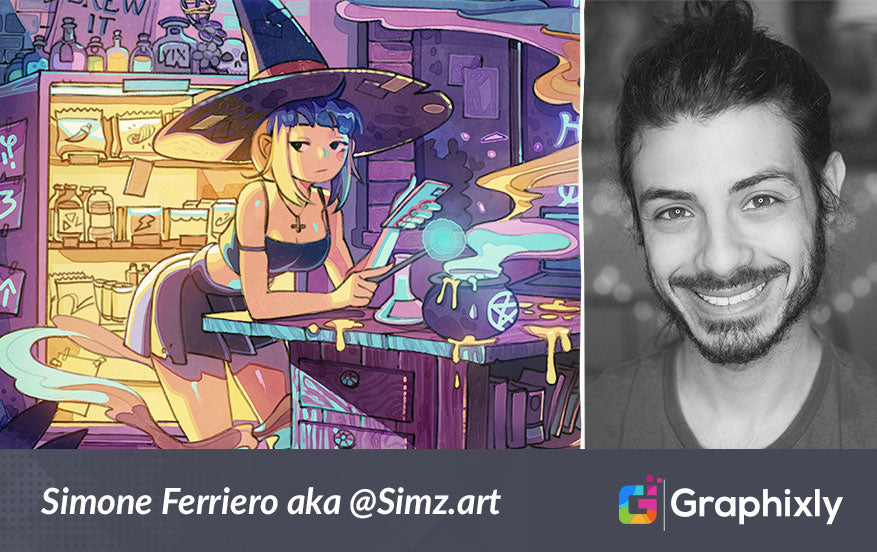 Clip Studio Paint Artist: Simone Ferriero AKA @Simz.art
Contact Graphixly @
How did you become an artist?

I started drawing since I was a kid. I always had art supplies in my house since my dad is an architect, so I really enjoyed crafting and creating things. When I was in my twenties I decided to go to Art School and after I finished it I started working in different art fields like photography and illustration for video game companies. In my late twenties I decided to be a freelance artist and stream my contents because that gave me huge creativity freedom. In summary, I've never stopped drawing no matter what and I think this is what matters the most to me.


Where do you get inspiration?

My inspiration comes from everything. I really like visual art, but I'm also a big photography and architecture fan. I also love being inspired by music, movies, TV Shows and video games. I can't really think what's the thing that inspires me the most, specially because my artistic vision is dictated by a lot of tiny bits from all the things I experienced during my life time. I'm a fan of sci-fi, fantasy (Lost, The Matrix, Ghost in the Shell, Akira, Lord of the Rings, Fight Club, to mention something from the top of my head), but also Slice of Life Cartoons and Shoujo. I'm a big fan of Lucas Arts games (Monkey Island, Indiana Jones, Sam and Max). I have a lot of favorite artists that inspires me like (John Romita Jr, Katsuhiro Otomo, Elsevilla, Jung Gi Kim, Banksy, Jim Lee, Humberto Ramos, Naoko Takeuchi and many more).

What's your hardware setup?
I've been a Mac user for long time, but once I decided to stream regularly I swapped to PC and I never went back. My tablet at the moment is an Huion Kamvas Pro 22. I've also used several other tablets that have been sent to me by different manufacturers but the Pro 22 is the best that to suit my needs.


What do you like best about Clip Studio Paint?


Clip Studio Paint has lots of features that are very useful, but the one I love the most is the brush settings. It has so many options and makes the process of creating a custom brush something very original. I think one of the coolest things is the preference of changing how every brush reacts to the pressure sensitivity, and the option to use a curve to describe its behavior. This is a top level tool and I think one of the options I use the most.


How long does it take you to make a single illustration?

My average time is around 8 hours, but this time really depends on how inspired I am and a little bit of luck as well. Some pictures take more time because I keep going back and forth changing something and this will make the overall time longer.


Would you consider Clip Studio Paint an industry tool?

I see any art supply (both traditional and digital) like tools, they don't make the work for you. They're like pens, pencils, brushes or other art supplies. I really think that as an artist, everything can be good to make art. So I think that Clip Studio Paint with all the options and opportunities that gives you, it really allows the artist to experiment in a lot of different directions and styles without having to change their supplies constantly. You can do pieces that have a watercolor look, or an oil paint vibes, but you can also draw using a brush that acts like a pencil or a pen. With enough knowledge the ending result can resemble almost any common media and everything in one program!


Where can we follow your work?


I'm on Twitter (twitter.com/SimzArts), Instagram (instagram.com/simz.art) and I stream very often on Twitch (twitch.tv/simzart).
*** Stay tuned! Simone Ferriero AKA @simz.art will do a Clip Studio Paint Webinar with us in May 2020 ***
1 comments
Where can we get your brushes? Your work is excellent, bro!!!
Daniel Alberto Malo Payán @ 2020-05-15 15:58:17 -0700