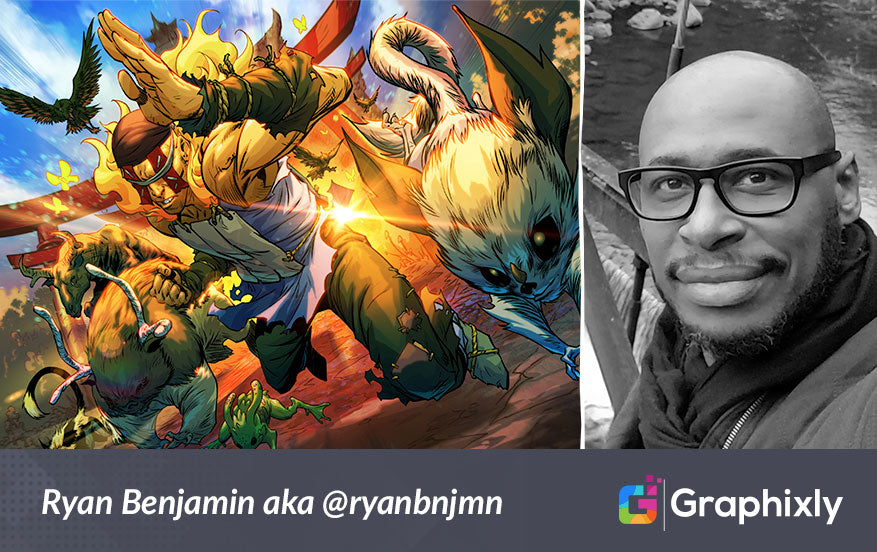 Clip Studio Paint Artist: Ryan Benjamin aka @ryanbnjmn
Contact Graphixly @
How did you become an artist?

I started drawing when I was really young. I'd say @ the second grade. Since then I have always stayed involved in the arts in some way. My professional art career started almost immediately after art college when I joined Image Comics in 1994. Back then I submitted some art to Image Comics and Jim Lee told me to keep practicing and continue submitting more art samples. So literally every day, I would practice and send in a batch of artwork every month. Six months later I was hired as an intern. I've been working in comics ever since. However, comics wasn't my end goal. I took a chance to get involved in the video game & film industry. In time, I expanded my skills as a concept, 3D, & storyboard artist. To this day, I continue to work in all three industries. Comics just happens to be my favorite so far. I have more freedom to explore and create.
All rights reserved to Brothers Bond
Where do you get inspiration?

My inspiration is gathered from a variety of sources. I used to be active on Deviantart but I've since moved on to Instagram and Pinterest. I also gather inspiration from my peers who teach with me such as Alex Sinclair, Carlo D'Anda, & Whilce Portacio. Kim Jung Gi is a recent major influencer in my art skills. We did a couple of live sketch sessions together on stage in Japan and San Diego Comic-Con. Other artists who inspire me Katsuya Terada, Soey Milk, Jim Lee (of course)
All rights reserved to Marvel
What's your hardware setup?

I have a Cintiq 24 and a Cintiq companion. Also, I have an XP-Pen for backup if I need it for emergencies. I recently acquired an iPad and I plan on grinding down that device within the next year or two. To be honest, I'm more of a PC guy.
All rights reserved to Disney
What do you like best about Clip Studio Paint?

I was first introduced to Clip Studio Paint when I was in Japan several years ago and I've been hooked ever since. I love the 3D and perspective tools. I must confess, if people haven't tried out the inking features in Clip Studios, they are missing out big time. The inking tools are outstanding. It's one of the best software for inking on the market. I usually ink traditionally, in fact, that's how I learned how to ink but I use Clip Studio Paint to ink pages and random images all the time. Especially in an emergency when I need to edit an image for a DC comic page or a Marvel cover.
How long does it take you to make a single illustration?

It depends on the detail. Some images can take six minutes while other times it can take up to two days. For the most part, when I'm producing images for companies, it can take an average of 8 hours. That's because 85% of the professional work I do is limited to pencil and ink. In my personal time I love painting on canvas. That's one of my "getaway" things to do when I need a break. So when I saw the watercolor brushes in Clip Studio I was amazed. I was like a kid in the candy store (trust me, Clip Studio is not paying me to say this) My process always starts with penciling, then inks, then color. I teach this in detail to my students at Comic Pro Boot Camp. I pride myself on being a fast artist and I do take advantage of shortcuts. The Clip studio tools to assist me in that speedy process.
All rights reserved to Sony
Would you consider Clip Studio Paint an industry tool?

Yes, absolutely. I recommend Clip Studio for any serious studios or professional artists out there. It's an absolute must-have and I'm not saying because Clip Studio is paying me (they're not ツ) It will make your work process more streamlined and efficient.
All rights reserved to Sony
Are there any other experiences/learnings/message that you'd like to share?

Draw, draw, draw every day. Reference/Study as many different artists that you can. Get multiple perspectives on one topic. For example, learn how to draw hands from twenty different artists. Learn how to draw heads from thirty different artists. Then practice, practice, practice. Then create your own style from what you've learned and practice some more. Don't be afraid to fail. Failure is part of learning. Show your work and consume as much criticism as possible. That's how you sharpen your skills. I would prefer that you try and fail rather than not try at all. In 2018 my book, Brothers Bond, was nominated for an Eisner award in the Best Digital Comic category. It made me realize that If I didn't try to create that book 4 years prior, I would have never known the potential. I'm in the process of making the board game which will be KickStarted in late 2020. If you want to see me in action, I do Live streams every Monday nights at 9 pm PST. Most of my streams are done with traditional pencil and ink but I won't count out digital streams. I might surprise people and share my screen while I work.
Picture with Stan Lee
How can we be more supportive of our fellow artists (as colleagues/fans/friends)?

These days, support your artists through Patreon or by asking them for commissions. They could really use your help during the pandemic since many Comic-Cons have been canceled for this year.
All rights reserved to Sony
Where can we follow your work?
0 comments