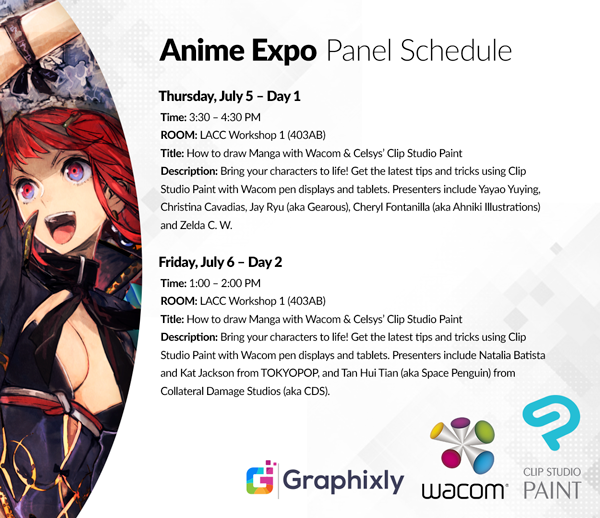 Anime Expo - Panel Schedule
Fahim Niaz @
Anime Expo Panel Schedule
Thursday, July 5 – Day 1
Time: 3:30 – 4:30 PM
ROOM: LACC Workshop 1 (403AB)
Title: How to draw Manga with Wacom & Celsys' Clip Studio Paint
Description: Bring your characters to life! Get the latest tips and tricks using Clip
Studio Paint with Wacom pen displays and tablets. Presenters include Yayao Yuying, Christina Cavadias, Jay Ryu (aka Gearous), Cheryl Fontanilla (aka Ahniki Illustrations) and Zelda C.W.
Friday, July 6 – Day 2
Time: 1:00 – 2:00 PM
ROOM: LACC Workshop 1 (403AB)
Title: How to draw Manga with Wacom & Celsys' Clip Studio Paint
Description: Bring your characters to life! Get the latest tips and tricks using Clip
Studio Paint with Wacom pen displays and tablets. Presenters include Natalia Batista and Kat Jackson from TOKYOPOP, and Tan Hui Tian (aka Space Penguin) from Collateral Damage Studios (aka CDS).
-----------------------------------------------------------------------------------
Day 1 Panel Artist Bios
Yayao Yuying
Most active on Twitter (@Super_Man_O), YYStudio is the creator of the Hmong culture inspired series called JINGKU currently running on GlobalComix. Stationed in the USA, the freelance artist is known for sprinkling their works with tributes to the Hmong ethnicity via cultural and fashion based references.
https://twitter.com/Super_Man_O/media
https://globalcomix.com/c/jingku?lang=en 
https://yayaoyuyingstudio.deviantart.com/gallery/66665572/Portfolio
Christina Cavadias
Christina Cavadias is an anime background character by day, Twitch streamer and artist by night. She has worked in digital marketing and social media management making branding, illustrations, and dank memes for a variety of clients including an Overwatch League team. In college, Cavadias made two animated short films with her classmates, one of which premiered in theater and won awards in the San Diego 48 Hour Film Festival. Today, she booths at conventions across California and freelances for clients ranging from Twitch Partners to voice actors.
https://www.instagram.com/scrubhime/
https://www.twitch.tv/scrubhime
Zelda C. W. 
My name is Zelda C. Wang. I'm the creator of Anime Expo's official mascots and the Greek mythology inspired original comic book series "MYth". I self-published my first MYth book in 2007. The 9th and latest book is coming out in August. Occasionally I work as freelance illustrator but writing and illustrating comic book is my main focus. I'm really glad to have tried Clip Studio.  It's a very powerful software which made comic making and publishing much easier for me. 
https://tapas.io/zeldacwang/series
https://zeldacw.deviantart.com/gallery/
http://zeldacw.tumblr.com/
Jay Ryu (aka Gearous) 
Hello there, this is Gearous. I'm a content creator who makes illustrations and stories. I've been growing as an artist every day with the goal of becoming a creator that can create a variety of high-quality sub-cultural content that many can enjoy. Since 2016, I've created many illustrations and even started my own original stories such as "The Ultimate Sexaroid" and "My Little Merman."  I stream every week to communicate with fellow anime fans and love to chat! Moving forward, I hope to create more characters and more stories to share with the world through many mediums and hope to even create my own original game. 
I hope to continue sharing my art and stories with the world.

https://twitter.com/gearous
https://www.youtube.com/c/gearoustv
Cheryl Fontanilla (aka Ahniki Illustrations)
I am a professional illustrator, character designer, and comic author of the LINE Webtoon webcomic: Catharsis. I have been drawing all my life, and have been professionally involved for 6 years.  Painting and coloring are my favorite parts of the illustration process with lineart being my least favorite. My favorite shows are Game of Thrones, Jojo's Bizarre Adventures, and The Amazing world of Gumball. My favorite comic book character is Mirio from My Hero Academy. I love to draw.
https://www.webtoons.com/en/fantasy/catharsis/list?title_no=396&page=1
Instagram: https://www.instagram.com/oitsnii/?hl=en
Twitter: https://twitter.com/itsahniki
-----------------------------------------------------------------------------------
Day 2 Panel Artist Bios
Natalia Batista (TOKYOPOP Artist)
Natalia Batista is a Swedish manga artist, illustrator and comic art teacher at Serieskolan in Malmö, the most prominent comic art school in Sweden. Her works include the kids manga Mjau!, published in Sweden, Portugal and the US, and Sword Princess Amaltea, published in Sweden, Italy and the Czech Republic. Member of the Swedish manga artist collective and publisher Nosebleed Studio. Natalia loves listening to podcasts, cooking vegan food and farming her own vegetables. She's got two cats who likes hanging out near her when she draws, and occasionally spill out her water cups.
YouTube: https://www.youtube.com/user/MangaNatalia
Facebook: https://www.facebook.com/swordprincessamaltea/
Website: 'http://nosebleed-studio.com/wp/
Tan Hui Tian (Collateral Damage Studio Artist)
Tan Hui Tian, better known as Space Penguin, is a Senior Illustrator with CDS. She is experienced in the field and versatile in art direction, having worked with clients such as NYCC, HTC eSports and First Place. That said, when left to her own accord, she likes to draw a curious mixture of the whimsical and the macabre. She will be releasing an original art book featuring her adaptation of Aesop's Fables later this year through CDS. 
Kat Jackson (TOKYOPOP Artist)
I am a Colorado native and I studied Animation in Colorado initially graduating in 2012 and transferred to Ringling College of Art and Design in Florida for an Illustration degree. I graduated with my BFA in 2015 and moved back to Colorado and began working on my own series seriously in 2016. I published an ashcan copy of Naor with a Colorado publisher at Denver Comic Con. I joined PopComics as a featured creator in 2016 and I have been working on my Naor Manga and a tutorial series for the last 2 years. Now that I'm in LA interning under Tokyopop and I'm looking for the next step in my career while continuing to build my Naor series.
0 comments