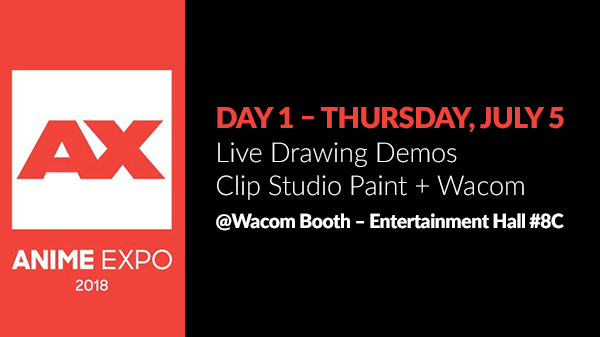 Anime Expo - Thursday, July 5 - Clip Studio Paint Live Drawing Demo
Fahim Niaz @
Thursday, July 5 Live Drawing Demo @Wacom Booth - Entertainment Hall #8C
12pm to 2pm - Amanda Lee (aka RainyTeacup)
Amanda Lee, also known as RainyTeacup in the art community, is a freelance illustrator based in California, USA. After graduating from University of California, Santa Cruz with a BA in Art, she spends most of her time on freelance graphic design jobs, attending conventions, and creating work for personal projects.
Website: http://rainyteacupart.com/
Store: rainyteacup.tictail.com
Social Media:
7pm to 9pm - Christina Cavadia
Christina Cavadias is an anime background character by day, Twitch streamer and artist by night. She has worked in digital marketing and social media management making branding, illustrations, and dank memes for a variety of clients including an Overwatch League team. In college, Cavadias made two animated short films with her classmates, one of which premiered in theater and won awards in the San Diego 48 Hour Film Festival. Today, she booths at conventions across California and freelances for clients ranging from Twitch Partners to voice actors.
http://christinacavadias.com 
https://www.twitch.tv/scrubhime
0 comments