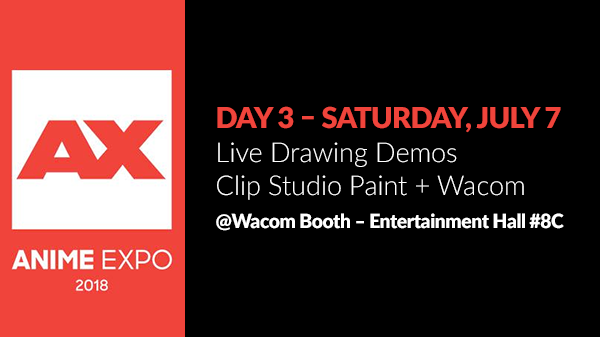 Anime Expo - Saturday, July 7 - Clip Studio Paint Live Drawing Demo
Fahim Niaz @
Saturday, July 7 Live Drawing Demo @Wacom Booth - Entertainment Hall #8C
12pm to 2pm - Ahniki Illustrations
I am a professional illustrator, character designer, and comic author of the LINE Webtoon webcomic: Catharsis. I have been drawing all my life, and have been professionally involved for 6 years.
Painting and coloring are my favorite parts of the illustration process with lineart being my least favorite. My favorite shows are Game of Thrones, Jojo's Bizarre Adventures, and The Amazing world of Gumball. My favorite comic book character is Mirio from My Hero Academy. I love to draw.
https://www.webtoons.com/en/fantasy/catharsis/list?title_no=396&page=1
https://www.instagram.com/oitsnii/?hl=en
https://twitter.com/itsahniki
3pm to 5pm - Jay Ryu (aka Gearus)
Hello there, this is Gearous. I'm a content creator who makes illustrations and stories. 
I've been growing as an artist every day with the goal of becoming a creator that can create a variety of high-quality sub-cultural content that many can enjoy. 
Since 2016, I've created many illustrations and even started my own original stories such as "The Ultimate Sexaroid" and "My Little Merman." 
I stream every week to communicate with fellow anime fans and love to chat! 
Moving forward, I hope to create more characters and more stories to share with the world through many mediums and hope to even create my own original game. 
I hope to continue sharing my art and stories with the world.
https://twitter.com/gearous
https://www.youtube.com/c/gearoustv
630pm to 830pm - Shannon Ng (aka SpaceJacket)
Hi there! My name is Shannon Ng, also know as SpaceJacket, and I'm just friendly geeky artist. I am an Illustration Entertainment artist who is a proud alumni of Art Center College of Design. I have a passion for comic and animation and hope to work in the entertainment industry one day. I continue to have fun with my art, comic and animation today and making people laugh and happy makes it all the better. If you are interested in knowing more about me and see more of my art, you can find me on several social medias (Tumblr, Twitter, DeviantArt, instagram, Youtube) as SpaceJacket. You can find and chat with me, at my booth at the Artist Alley (booth A51 and A52) located at the Kentia Hall.  
Links to your artwork:
http://spacejacket.tumblr.com/
https://spacejacket.deviantart.com/
https://www.instagram.com/spacejacket/
0 comments