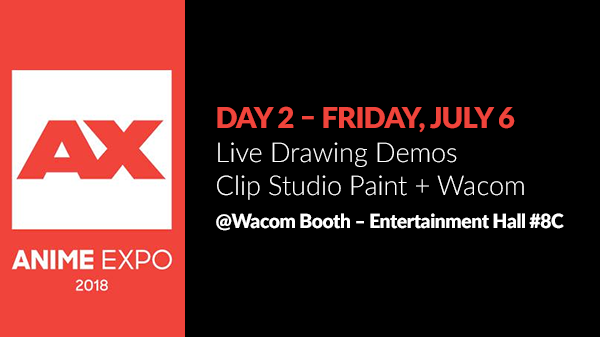 Anime Expo - Friday, July 6 - Clip Studio Paint Live Drawing Demo
Fahim Niaz @
Friday, July 6 Live Drawing Demo @Wacom Booth - Entertainment Hall #8C
10am to 11am - Jackie Lee
Jackie Lee is an animator and storyboard artist currently working at BuzzFeed. She spends her days making animated memes that your normie cousin loves to share on their facebook page. When she isn't drawing, she's spending a lot of time being bad at OverWatch. (No aim, no brain, Junkrat main btw)
https://twitter.com/_itsjackielee
11am to 1pm - Christine (aka XTINE)
"Hi there! My name is Christine but a lot of people know me online as 'xtine' ! I've always loved art, anime, and going to conventions! It was a dream of mine to create art that I could share with fellow fans and to someday showcase my art in a local artist alley! I've been drawing all my life and started using digital tools when I turned 18. I've had the pleasure of working with Wacom tablet products, Photoshop and Clip Studio Paint. I'm a huge fan of all those mentioned and think they're great tools for starters, hobbyists, and professionals alike! I hope you can bring your ideas to life too and pursue all your creative interests! You can find me on Twitter and Instagram at @anewworldxtine! Thank you!"
http://anewworldxtine.daportfolio.com/
https://twitter.com/anewworldxtine/status/1008788223223521280
https://twitter.com/anewworldxtine/status/1009498326876614656
https://twitter.com/anewworldxtine/status/981074317512359937
https://twitter.com/anewworldxtine/status/1006315937279062016
3pm to 4pm - Baesd Art
My name is Baesd Art, I'm a digital artist from California. My art style is inspired by anime, cartoons and hip hop.
430pm to 630pm - Tan Hui Tian (aka Space Penguin)


Tan Hui Tian, better known as Space Penguin, is a Senior Illustrator with CDS. She is experienced in the field and versatile in art direction, having worked with clients such as NYCC, HTC eSports and First Place. That said, when left to her own accord, she likes to draw a curious mixture of the whimsical and the macabre. She will be releasing an original art book featuring her adaptation of Aesop's Fables later this year through CDS. 
7pm to 8pm - Duo - Phil & LightDarkSoy

LightDarkSoy is a 26 year old artist who is inspired by anime and does character art for a living. She was given the Wacom Graphire 2 Bronze and Manga Studio (Clip Studio Paint's predecessor) while in middle school and has loved using both ever since. For over the course of 10 years (or more) LightDarkSoy as honed her art style and creates art of the things she loves, whether art of her favorite shows or creating her own palette of character designs using Clip Studio Paint EX and a Wacom Cintiq22HD and Cintiq Companion on the go. She is forever improving her art and loves to share it to others via online streaming on Twitch where she can meet new friends and possible clients for her commission work. She currently does illustration work, graphics, and recently pixel art and quick animations.

Twitter - @soysaucedoodles 
twitch - http://www.twitch.tv/lightdarksoysauce
https://lightdarksoysauce.deviantart.com/art/The-Magus-Bride-729323501
https://lightdarksoysauce.deviantart.com/art/FA-SAITAMA-VS-DOOMFIST-699619402
https://lightdarksoysauce.deviantart.com/art/FA-DON-T-GET-COOKED-698606918
https://lightdarksoysauce.deviantart.com/art/FA-Spell-of-the-Unknown-649114441
https://lightdarksoysauce.deviantart.com/art/OC-The-God-s-Lounge-Lao-495858994

0 comments