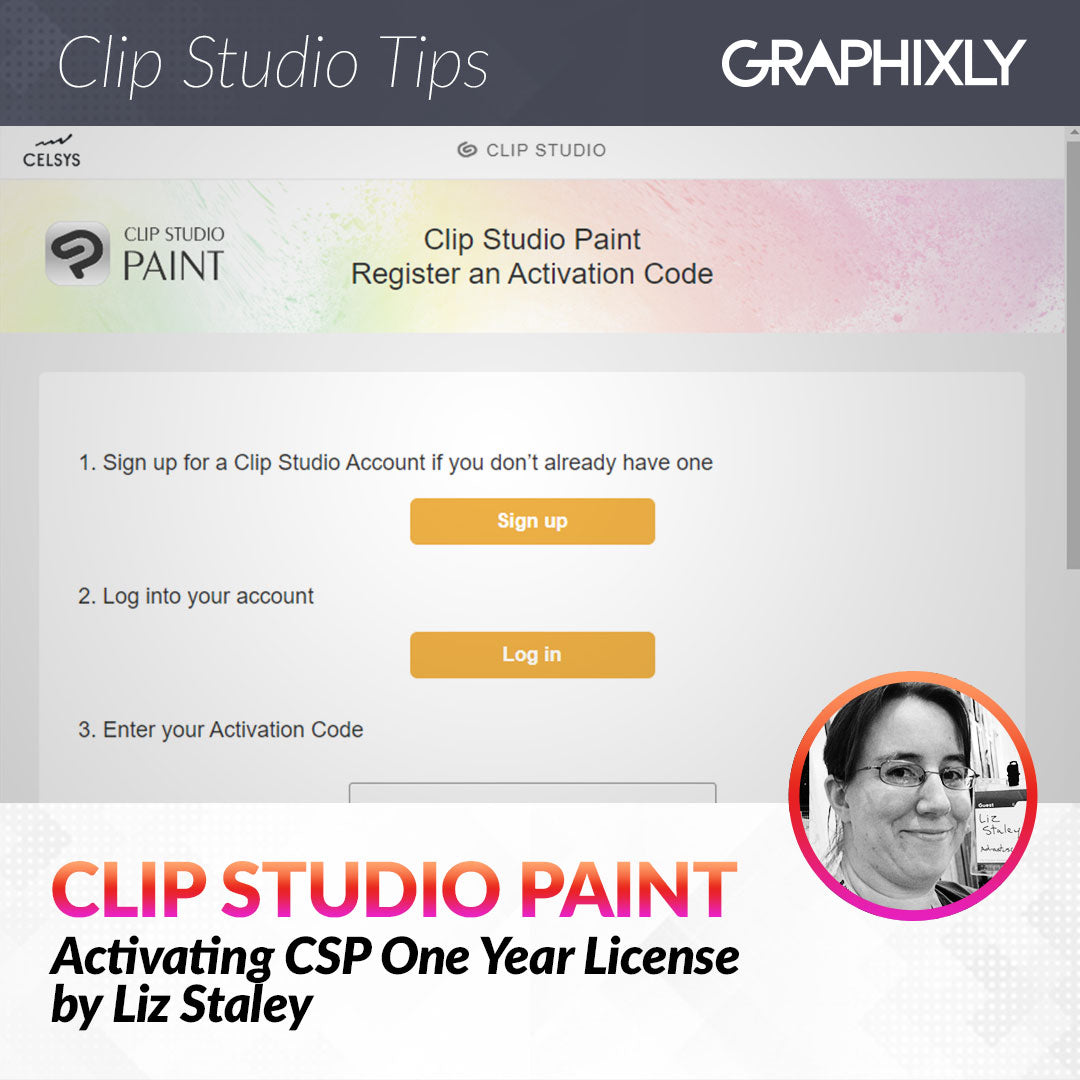 Activating CSP One Year License
Contact Graphixly @
Hello! My name is Liz Staley and I'm a long-time user of Clip Studio Paint (I started using the program back when it was known as Manga Studio 4!). I was a beta-tester on the Manga Studio 5 program and for Clip Studio Paint, and I have written three books and several video courses about the program. Many of you probably know my name from those books, in fact. I write weekly posts on Graphixly.com and on CSP Tips, so be sure to come back every week to learn more Clip Studio Tips and Tricks from me!
If you just purchased Clip Studio Paint recently you may wonder how you can activate your license and start using your program.  
In this article we will cover the following topics:
Activating your CSP One-Year License
Let's get our program activated so we can draw!
Activating your CSP One-Year License
Licenses for Clip Studio Paint come in either a one-time perpetual license (available for only PC or Mac and only includes crucial updates past version 2.0 so should be paired with an Update Pass if you want to use newer features) or a monthly or yearly license for PC, Mac, and mobile devices such as iPhone, Galaxy, iPad, etc. These licenses are limited to the number of devices you can use CSP on. In this article we will be activating a one-year, one-device license on my iPhone.
Once you choose and purchase your license, you will receive an email with your activation code. Then go to https://ec.clip-studio.com/q/activation-codes 
If you already have a Clip Studio Account, click on the "Log In" button. If not you will click on "Sign Up" and enter your information to sign up for your free account. 
Once you're signed in to your Clip Studio account, you should see a text box to input your Activation Code into. I just copied-and-pasted from my email to make it easier. Once your activation code is in the box, click on "Submit".
On the next screen you will be given an opportunity to check over the details of your license. Click Next to continue.
I had a previously active plan for my phone, so I had to scroll down on the next screen to click on "Confirm" to signal that I wished to activate this plan for my account.
Once we're done that, we're ready to launch Clip Studio Paint. Because I'm going to use this plan for my mobile device, I went to the Apple Store and downloaded the app, then opened it on my phone. 
Because we already have a license that we activated, we'll tap on "Use existing license".
Sign in to your Clip Studio Account (make sure it's the same email address and password that you used in the previous steps, or your license plan won't show up!)
Once you're logged in to your account you will see your available plans. Click on the Activate button next to the plan to start using it. 
On the next screen, click "Launch" to start the software.
You can now begin using the software on your chosen device!
Conclusion
The process for activating your software is a little different than most other applications, but it's not a difficult process at all! You'll be using Clip Studio Paint in no time!
For more information on CLIP Studio Paint, please visit https://www.clipstudio.net/en  or https://graphixly.com
0 comments